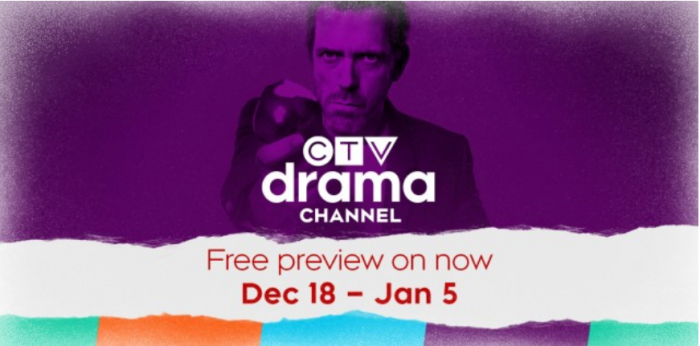 VMedia is pleased to offer CTV Drama Channel on FREE PREVIEW for your viewing pleasure until January 5, 2021.Lots of great shows to watch and enjoy over the holidays with our VMedia live TV streaming service.
The CTV Drama Channel pushes the boundaries and sparks conversation with compelling programming. Get into addictive stories, from cutting-edge series to crowd-pleasing whodunits and riveting unscripted moments – all on VMedia TV.
CTV Drama is on channel #40 in your channel line-up in all provinces with the exception of Quebec where it is on channel #202.
Here are just a few Holliday movie specials and an exciting new series you're sure to enjoy.
Christmas Unwrapped
An ambitious yet pragmatic reporter learns the true meaning of Christmas when she investigates a millionaire and beloved member of the town who insists that all gifts that arrive on Christmas Day every year are from none other than Santa himself.
A Christmas Switch
When singer Audrey and record executive Julia collide at the mall, they wake up in each other's lives the next morning. As Christmas looms closer, the two women rush to figure out how to help each other and switch back before they miss Christmas.
A Twist of Christmas
In the frenzy before Christmas, two single parents accidentally mix up their toys at a crowded department store. Although the two can't stand each other, they decide to try to help each other salvage their holiday plans.
New Series you won't want to miss!
The Flight Attendant – Thursday 10PM EST
Flight attendant Cassandra Bowden wakes in her hotel room in Bangkok, hungover from the night before and with a dead body lying next to her. Afraid to call the police, she continues her morning as if nothing happened. In New York, she is met by FBI agents who question her about her recent layover in Bangkok.
Enjoy CTV Drama Channel in our most popular TV packages – Premium Flex and Grand Premium TV packages for only $52.95/month or $70.95/month, respectively. Add either of these great packages in your My Account and get 1 Month FREE!
You can also add CTV Drama Channel to your lineup with our Knowledge theme pack for only $10.95/month, or get it for $5.95/month in our UChoose store. Both options can be easily done in your My Account.
Happy holidays with VMedia!