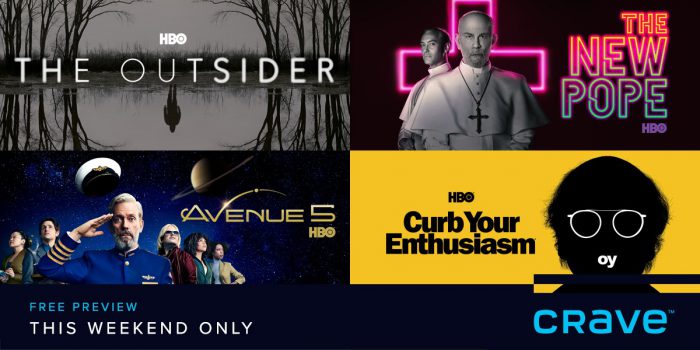 Crave + Movies + HBO is on Free Preview starting tomorrow through to Feb. 17, 2020! Our Valentine's Day gift to you. Six premium channels with acclaimed movies and the hottest series – in HD, uncut and commercial free.
Here are a few of the show you can enjoy for Free on Crave + Movies + HBO:
The Outsider, Season 1 – Sunday 9PM (HBO)
Based on Stephen King's bestselling novel of the same name, this dark mystery follows a seemingly straightforward investigation into the gruesome murder of a young boy. The crime, however, leads a seasoned cop and an unorthodox investigator to question everything they believe to be real, as an insidious supernatural force edges its way into the case.
Avenue 5, Season 1 – Sunday 10PM (HBO)
Avenue 5 is a space tourism comedy set 40 years in the future when the solar system is everyone's oyster. Hugh Laurie will star as the Captain, and with him in charge, nothing can go wrong.
Curb Your Enthusiasm, Season 10 – Sunday 10:30PM (HBO)
The life and times of Larry David and the predicaments he gets himself into with his friends and complete strangers
Like what you see? Then add Crave + Movies + HBO theme pack your VMedia TV lineup for only $19.95/month, and get the best in premium entertainment today!
VMedia TV- More Content, More Enjoyment.