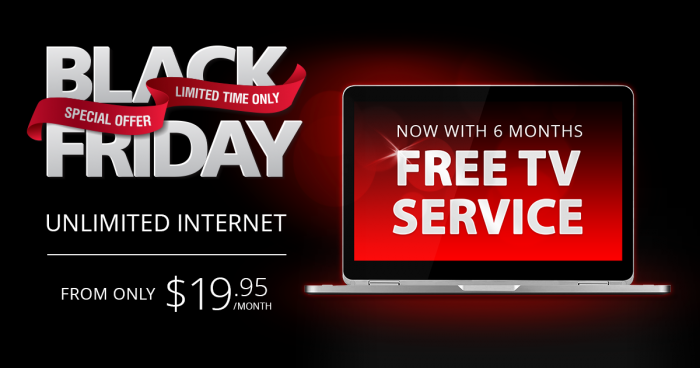 Check out VMedia's super Black Friday Offer – six months FREE TV service! That's right – sign up to our Skinny TV package and enjoy VMedia's Skinny TV package FREE for 6 months.
The Skinny features up to 30 channels, including all the major networks; CTV, CBC, Global, CITY, NBC, ABC, CBS, FOX, PBS, and many more. Enjoy the latest hit shows, news and sports, free for half a year. That's a savings of $17.95 per month, or over $100 in total!
Basic TV – Only $12/month
Want your favourite specialty channels or more sports? Use this free offer savings on our Basic TV package – regularly $29.95/month, but now only $12.00 /month for the first six months. Enjoy all the channels in our Skinny package, plus many more great specialty channels, including TSN 1, 2, 3, 4 and 5, E!, CBC Newsworld, CP24 (where available), CTV NewsChannel, MuchMusic, Vision TV and YTV. More channels, more enjoyment.
Premium Basic TV – Only $29/month
Or, live large and enjoy VMedia's best-selling TV package – Premium Basic – with up to 70 great channels. Premium Basic gives you everything in our Basic TV package, plus all the regional Sportsnet channels, SportsnetOne, CNN, AMC, A&E, Showcase, Bravo, Discovery and much more. Sign up today and pay only $27.00/month for the first 6 months, and only $44.95/month after. The best value TV package around.
VMedia TV – Advanced TV/ Streaming Platform
With VMedia TV and our VBox, enjoy an advanced live TV and streaming platform with quick access Google Play apps on your TV – Netflix, YouTube, Movies, Music, Games, Social and so much more. Check out our innovative VCloud feature ("Look Back") TV on up to 30 English channels (including all the major networks and more) and a whole slew of multicultural channels. One set top device, one remote, and a whole world on entertainment.
VMedia TV Comes With Our Unbeatable, Unlimited Internet
VMedia TV comes with VMedia high speed internet, featuring the best unlimited internet plans with the lowest prices on the market today. Choose from our home internet plans and large selection of speeds – delivered on major internet networks from Bell, Rogers, Cogeco, Videotron and Shaw across Canada. VMedia is one of the fastest growing internet providers today.
VMedia – More TV. More Internet. More Value!
(Offer expires on November 30, 2017)