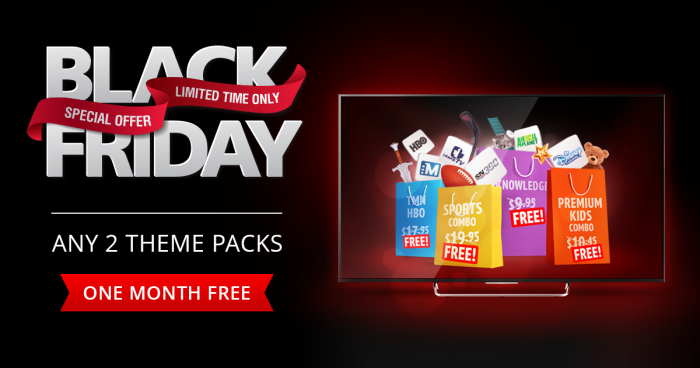 Yes! VMedia's Black Friday Deal means you can enjoy the first month FREE when you sign up to any VMedia TV Theme Pack!
More TV Enjoyment
Sign up for one of our Theme Packs and the first month is on us. Take advantage of this special limited time offer and get a bigger, better TV experience, new hot shows, and hours of TV enjoyment.
Sports, Family, Movies and More!
With a large range of theme packs available – from Sports and Movies, to Kids and Lifestyle, to News and Knowledge – VMedia has something for everyone.
Enjoy popular theme packs such as:
Knowledge – $9.95/month
Style/Living – $12.95/month
SportsFan – $16.45 (or only $7.95 with Premium Basic)
TMN/HBO – $17.95/month
Family – $6.45/month
View our extensive range of VMedia theme packs here.
(Offer expires November 30, 2017. Limit 2 free months per customer.)