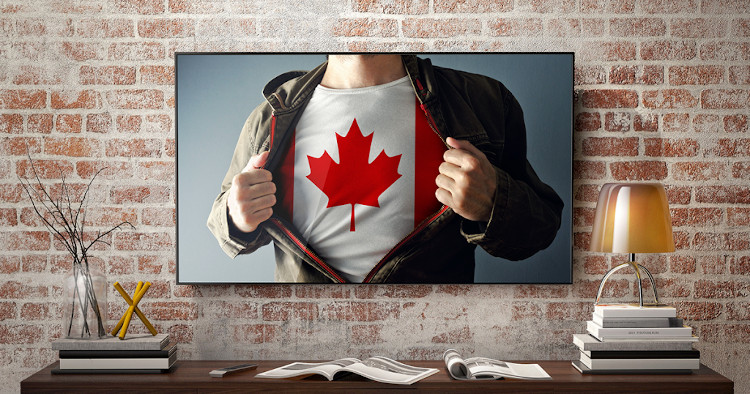 With a world of TV shows and movies, it can be hard to remember that Canada is home to great entertainment – from our home grown talent on global screens (Ryan Gosling, eh?) to large Hollywood movies being filmed in Canadian cities like Toronto and Vancouver. To celebrate our home and native land, VMedia has compiled a list of our favourite Canadian programming. In no particular order, here are our top picks for most memorable and gripping Canadian TV series that you can watch right now.
Anne – CBC
Anne is a reboot of the classic Canadian book, Anne of Green Gables. Anne reimagines the story of a young orphan, Anne Shirley, who is seeking love, acceptance and her place in the world. After an abusive childhood in orphanages and the homes of strangers, she is mistakenly sent to live with siblings Marilla and Matthew Cuthbert and changes the lives of everyone around her.
Bad Blood – City TV
This compelling crime drama series details the rise and fall of one of Canada's most notorious mafia bosses, Vito Rizzuto. The series begins with Rizzuto controlling all crime and government in Montreal and the fall of his mob after he is imprisoned. Like most mafia family dramas, Bad Blood is about more than crime and corruption – at its core are themes of peace, power and family dynamics.
Mary Kills People – Global TV
Another Canadian drama series, Mary saves people's lives by day, and by night, she ends them by helping terminally ill patients end their lives on their own terms. As her business picks up and consequences start to creep into her day-to-day life, Mary must do moral mathematics and confront her own culpability and capacity for violence.
Baronness von Sketch Show — CBC
With its predominantly female cast, writers and directors, this sketch comedy series stands out in a male-dominated genre. Accolades like "the best thing to come out of Canada since Ryan Gosling" set the bar high. The Baronesses take on everyday minutia (such as the appropriate amount of exclamation points to use in work emails) and turns them into hilarious and exaggerated sketches.
Cardinal – CTV
This award-winning drama series has been praised by critics as "landmark Canadian TV" and in it's second season, has already been renewed for two more seasons. Cardinal follows two detectives, John Cardinal and Lise Delorne, as they investigate the murder of a local teenage girl. As their investigation ramps up, a new missing persons case with similar details leads Cardinal to believe that there is active serial killer in the area.
Crawford – CBC
From the creator of the famed Trailer Park Boys, this family comedy series features a high functioning dysfunctional and quirky family. Crawford follows the story of a suburban family with three children: Wendy, who is trying to figure out life; Don comes home after being kicked out of his band and discovers he can speak to raccoons, and Brian, who unites the family. Themes about being nice to other people despite how weird they may be, getting along and being kind to animals run throughout the series.
Alias Grace – CBC
This 6 episode miniseries is an adaptation of Margaret Atwood's novel by the same name, Alias Grace tells the story of young Grace Marks – an Irish immigrant who works as a servant in Upper Canada. Based loosely on 19th century events, young Grace is accused of the murder of her employer and is subsequently imprisoned. This series creates a fictional biography in which Grace walks a psychologist through her entire past to determine whether she is deserving of an early release.
Orphan Black – Space Channel
Currently in its last season, this science fiction series revolves around Sarah Manning, who witnesses the suicide of a woman who appears to be her doppelganger. Sarah discovers that she is a clone and has many clones as part of an illegal human cloning experiment. The series raises thoughtful issues about the moral and ethical consequences of human cloning, its effect on personal identity and the control of human life. A cross between United States of Tara, Alias and LOST, this series has something to captivate a wide audience.
Degrassi – Family Channel
No list of Canadian TV could ever be complete without mention of Degrassi – an iconic Canadian TV show that has been reinvented five times over the years. Reboots include The Kids of Degrassi Street, Degrassi Junior High, Degrassi High, Degrassi: The Next Generation, and Degrassi: Next Class. No matter what generation you belong you, you will be sure to find your fix of drama on Degrassi Street in Toronto.
As a Canadian company, we are proud to be the leading alternative TV service provider from coast to coast. Catch these Canadian series and all the latest programming with VMedia TV. Sign up today and take advantage of all our unlimited, high speed cable and DSL internet plans, with no credit check, activation, or cancellation fees. Plus, all new customers enjoy 2 months FREE TV! That's right – our most popular TV package, Premium Flex, with over 60 of your favourite channels, is free for the first two months. Save over $100! Choose from one of four variations and catch all your favourite programming: Premium Classic, Premium Sports, Premium Family or Premium Lifestyle.