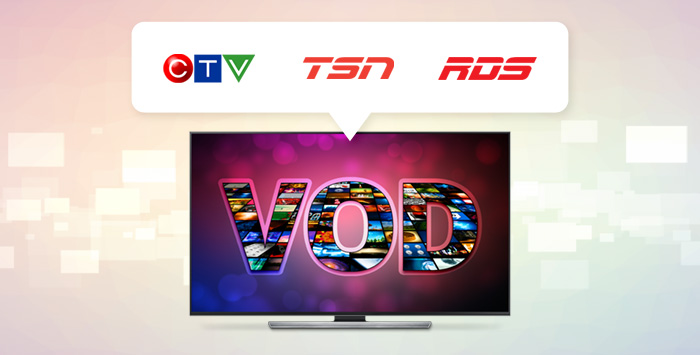 We are delighted to announce that we have added 3 more VOD channels to our TV platform. In addition to TMN, HBO, Family, Family Jr and CHRGD, we now have VOD for CTV, TSN and the French language sports channel, RDS. New content is being added for these 3 channels every day, providing an extensive array of programming to select from.
Everyone loves VOD. And VMedia's VOD feature is fast to get up on your screen compared to the other TV providers… 4 clicks and you're watching. No clunky downloading or wait time to make you groan.
Similar to other service providers, the VOD option is available when you subscribe to a channel that is VOD enabled. CTV is part of all our TV packages so everyone will be able to enjoy VOD content for this channel. Here are some popular shows to check out; The Big Bang Theory, Castle, Conan, Criminal Minds, Daily Show, ETalk, Law & Order SUV, The X Files, The Voice and more.
For you Sports Fans, TSN VOD is great when you want to catch up on that killer game or hot match that you missed – Hockey, Basketball, Football and tons more.
The other VOD channels such as TMN/HBO, Family and Family Jr offer a terrific slate of 'On Demand' content when added as a Theme Pack (called Subscriber Video On Demand). And additional VOD channels are coming soon.
VMedia – More VOD. More Content. More Enjoyment.