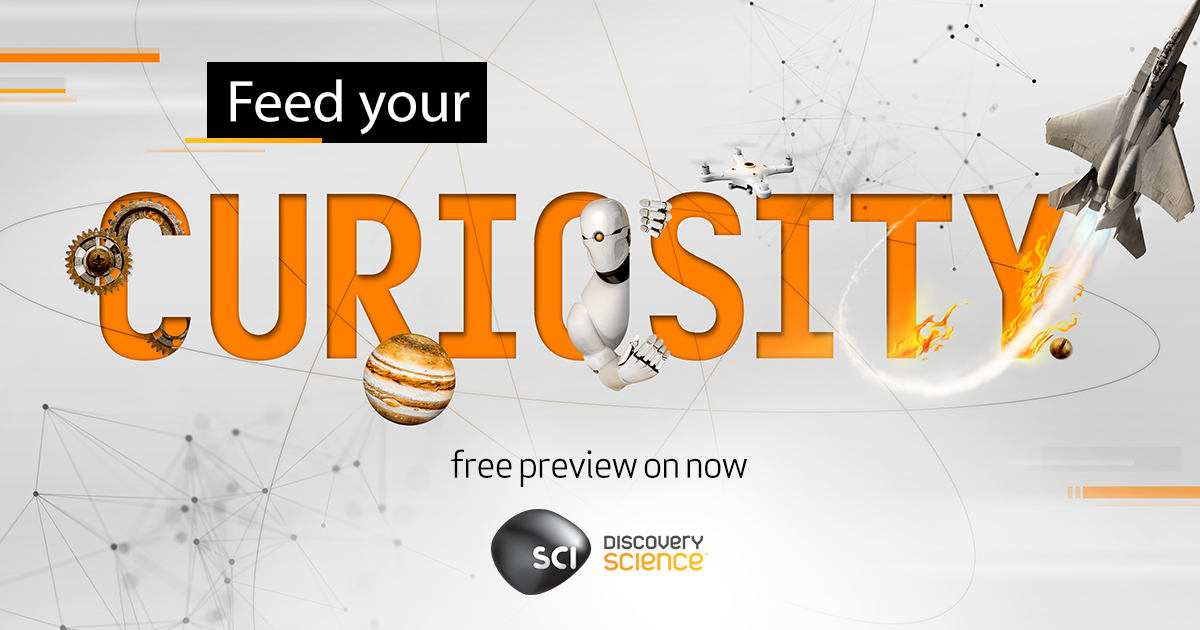 VMedia TV brings you another free preview this summer – from August 16th to September 13th, all of our TV subscribers can catch Discovery Science (Channel #87) for free.
Discovery Science is the home of all things science around the clock. It is the premier TV, digital and social community for those with passion for science, space, technology, archeology and engineering. Among it's popular TV series, Discovery Science features: Mythbusters, Outrageous Acts of Science, What on Earth?, How the Universe Works, Unearthed, and Mysteries of the Abandoned. For the casual science buffs, Discovery Science takes science out of the lab, revealing its fun and relevant applications in everyday life.
The next month is filled with exciting programming, including new and returning series. Here are some highlights.
New Series
Silicon Valley: The Untold Story
Thursday, August 23, 8 PM
Silicon Valley: The Untold Story delves into the century-and-a-half history of this area, which is now home to Apple, Facebook, Intel, and Google. This three-part series tells a broader story of the Valley, and features interviews with some of the region's most prominent innovators, including Apple Co-Founder Steve Wozniak. Discover the inspiring stories of Y-Combinator founders Paul Graham and Jessica Livingston; Kyle Vogt, whose four-person self-driving car startup was bought by General Motors for $1 billion; and Intel Co-Founder Gordon Moore.
Returning Series
Outrageous Acts of Science – Season 6
Wednesday, August 29, 8 PM
Forget everything you knew about science – Outrageous Acts of Science proves that testing the principles of physics, chemistry, biology and engineering isn't confined to just laboratories anymore. This fast-paced series scours the web for the best self-appointed scientists whose homegrown research – mind-boggling experiments, extraordinary inventions and jaw-dropping scientific stunts – have gone viral. Each hour-long episode counts down the best clips, supported by a team of actual scientists who analyze the scientific principles behind the backyard shenanigans.
Mysteries of the Abandoned – Season 2
Tuesday, August 28, 10 PM
They were once some of the most advanced structures and facilities on the planet, standing at the cutting-edge of design and construction. Today, they are abandoned, dangerous, and some are even deadly. From uninhabited cities to empty factories, these long-forgotten engineering marvels are scattered around the globe. This series explores why some of the world's most advanced architectural achievements were left behind.
Special
Rogue Earth: Alberta Floods
Tuesday, September 11, 9 PM
As climate change continues to unfold in Canada and around the world, natural disasters are becoming more violent and more frequent. Southern Alberta's super flood made headlines in June 2013, as Canada watched communities confront torrential rains, rising floodwaters, and mass evacuations. Marking the fifth anniversary of this catastrophic weather event, Albera Floods: Rogue Earth, relieves the experience hour by hour, as survivors recount their terrifying experiences battling a perfect storm and its devastating effects.
Continue to discover the wonders and cultural richness of the world we live in by subscribing to the Our World theme pack for $6.95 per month. You can also subscribe to Discovery Science individually from our UChoose store starting from $2.95 per month.
VMedia TV : More Content, More Enjoyment.
[/vc_column_text][/vc_column][/vc_row]