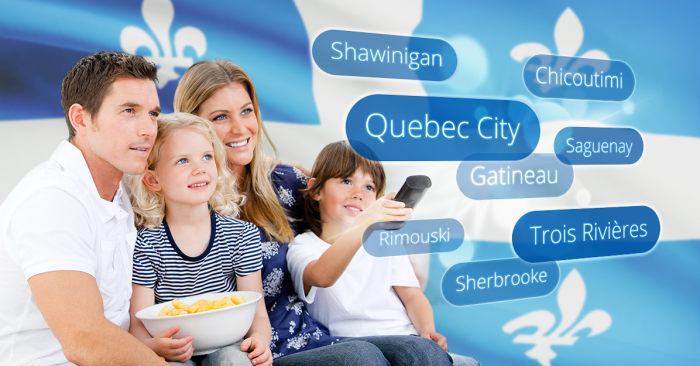 Exciting New TV Service Launches in Quebec City, Gatineau, Sherbrooke, Trois Rivières, Shawinigan, Saguenay, Chicoutimi and Rimouski.
We are very pleased to announce the expansion of VMedia's innovative and affordable TV service in La Belle Province. Already available in the Montreal area, VMedia has now expanded TV service to Quebec City, Gatineau, Sherbrooke, Trois Rivières, Shawinigan, Saguenay, Chicoutimi, Rimouski and their surrounding areas.
VMedia is Canada's fastest growing TV and Internet provider, and Consumers across the country are taking advantage of our low priced TV packages, flexibility to 'build your own' TV line-up, and VMedia's low cost, unlimited internet plans. Combined with our customer – friendly practices, such as no contracts, no cancellation fees, and no surprise data charges on your bills, VMedia is a popular choice for many households over the large companies.
Consumers across Quebec can now sign up to our great value TV packages, starting as low as $17.95/month with TheSkinny, the lowest priced 'starter' TV package on the market today. In combination with our very competitive and low cost unlimited internet plans, Cable or DSL/FTTN, VMedia offers the best value in TV and internet services today.
VMedia offers a full lineup of French, English and multicultural channels, in appealing 'starter' packages, and on a standalone or 'pick a pack' basis. In Quebec, we have all the popular and local channels, including premium sports channels such as RDS, TVASports, TSN and Sportsnet, and specialty channels such as Canal D, Canal Vie, Showcase, AMC, CNN and Discovery, as well as SuperEcran and TMN/HBO, featuring highly acclaimed TV series and the latest movies. VMedia lets you build your own, customized TV package, at lower prices, so you pay for the channels you watch.
Quebecers can enjoy VMedia's advanced IPTV or 'internet TV' platform, which provides access to cool features and raises the bar for home entertainment and enjoyment. Our VBox and convenient integrated TV/OTT interface gives you quick access to both live TV, and all your favourite streaming and online content. Netflix, YouTube, movies, games, music and all the apps in Google Play, and even a browser so you can surf the web from the comfort of your couch. Plus, VCloud "Look Back" TV, VOD and PVR. One set top, one remote – and a whole world of content.
VMedia TV subscribers also have the option of watching TV with a Roku Player. Not quite as many features as the VBox – but still great for TV watching and the VMedia TV app is available in the Roku Channel Store.
Hey Quebecers – get the best value in TV and internet services and sign up to VMedia today!