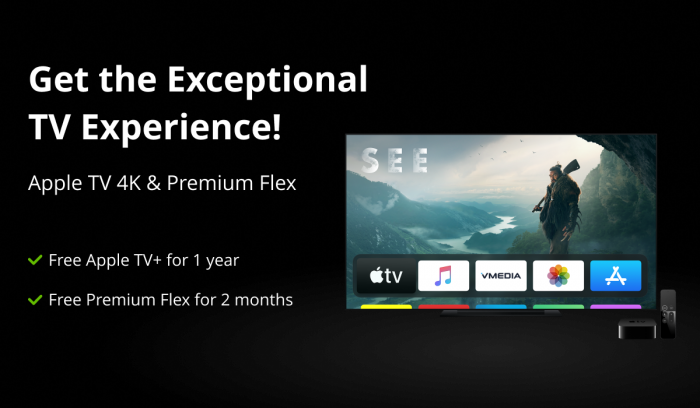 Contact: Beth Merrick /ZAZOU Communications
(416) 654-9881, [email protected]
VMEDIA LAUNCHES NEW TV APP AND OFFERS APPLE TV 4K TO NEW AND EXISTING CUSTOMERS
VMedia customers benefit from a seamless zero sign-on experience on Apple TV 4K, the most powerful entertainment device for enjoying TV shows, movies, music, photos, games and apps on the biggest screen in the home
Toronto, ON-August 20, 2020 -VMedia announced today that new and existing customers can now watch VMedia's live TV and on demand movies and shows on Apple's premium entertainment device, Apple TV 4K, through the new VMedia TV app for Apple TV. The VMedia TV app delivers a sleek, user-friendly interface for viewing and navigation, appealing TV features, fast access to customers' favourite content and is available on iPhone, iPad and Apple TV. Starting today, Apple TV 4K can be purchased from VMedia.
VMedia customers can now also enjoy the powerful zero sign-on experience from Apple, which further simplifies signing in and getting customers to the content they love with ease. With zero sign-on, Apple TV 4K will automatically install the VMedia TV app and sign them in — no need to enter a username and password.
VMedia customers purchasing Apple TV 4K through VMedia will also enjoy a limited time offer of one year of Apple TV+ included for free, so they can watch Apple Originals from the world's greatest storytellers on the Apple TV app.* With Apple TV 4K, VMedia customers can use the Apple TV app to watch Apple TV+ and Apple TV channels, and have the opportunity to buy or rent thousands of newly released movies, classic favourites, and TV shows. Customers can also enjoy Apple Music, Apple Arcade, and thousands of other apps, including games, fitness, and education — all through one device built for the biggest screen in the home.
VMedia Internet subscribers will also benefit from a 2 month free trial of the popular Premium Flex TV packages, with their purchase of the Apple TV 4K.
"We are excited to offer our customers a seamless, zero sign on experience with Apple TV 4K", said Alexei Tchernobrivets, CEO of VMedia. "Through our innovative VMedia app, our customers can enjoy the content they love with ease across iPhone, iPad and Apple TV."
Apple TV 4K delivers the highest quality cinematic experience of stunning 4K HDR visuals and immersive sound with Dolby Atmos. Since the VMedia TV app is integrated with the Apple TV app, customers can access on-demand programs and live sports in the Watch Now section, and add shows, movies and games to Up Next, ensuring they never miss a game or new episode. Customers can use the Siri Remote to ask Siri to play live channels, movies or TV shows available through the VMedia TV app on Apple TV. And with a simple tap of the AirPlay icon on their iPhone, iPad or Mac, VMedia TV app users can stream 4K HDR movies and TV shows from the Apple TV app and other AirPlay-compatible video apps as well as music, photos and more directly from their Apple device to the TV connected to Apple TV 4K.
VMedia's TV service offers a full line-up of network, specialty and multicultural channels covering all the genres in low cost 'build your own' TV packages with 'a la carte' channel options and starting at only $24.95/month. VMedia customers can purchase Apple TV 4K on the VMedia site or from VMedia's Call Centre Agents.
The company's focus is on providing TV innovation in the marketplace and VMedia has a strong track record of introducing popular new TV packages and capabilities to enhance the live streaming entertainment experience. VMedia was the first to launch a low cost 'Skinny' TV package and features such as 'Look Back' TV and more.
For more information about VMedia and to stay current on VMedia news, please visit us:
Site: https://www.vmedia.ca/en
Twitter: https://twitter.com/VMediaTV
Instagram: https://www.instagram.com/vmediainc/
Facebook: https://www.facebook.com/VMediaTV
LinkedIn: https://www.linkedin.com/company/vmedia-inc/
*$5.99 CAD/month after free trial. One subscription per Family Sharing group. Offer good for 3 months after eligible device activation. Plan automatically renews until cancelled. Restrictions and other terms <https://www.apple.com/promo/> apply.
-30-
ABOUT VMEDIA
VMedia is Canada's leading independent telecom and broadcasting company available coast-to-coast, offering unlimited Internet, TV, Home Phone and Home Security services. VMedia's mission is to provide the most affordable prices, the best choice and flexibility, dedicated consumer advocacy and ongoing service innovation. VMedia is recognized as an innovation leader in the industry, as the first to launch numerous consumer-friendly service and packaging features, and in particular is a pioneer in the development of live TV streaming solutions and IPTV broadcast technology, offering affordable choice and easy access to all your favourite TV entertainment. Visit www.vmedia.ca.