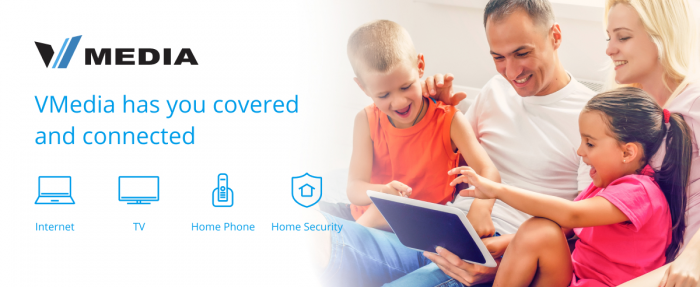 First and foremost, we hope all Canadians stay healthy and hopeful as we address this major health event together, and get past it as soon as possible.
This is a highly unusual time for everyone and we wanted to reach out to all our customers to let them know that now and as always, we are very focused on serving your needs for all of your VMedia services. We strive to provide our customers with great customer service in each and every interaction, each and every day. We have taken the necessary measures to ensure that, even during this challenge that we are all facing, we are able to provide you with the support and service you want to receive.
As you know, VMedia's internet service allows for unlimited usage, so you will not need to worry about any data caps or additional costs if you are working from home or keeping your children occupied with their favourite entertainment or online home schooling solutions.
With many of you spending a lot of time at home, we have arranged with our TV channel partners to provide you with 24/7 news services to keep you up to date, as well as entertainment to distract you. We will be providing CP24 (Ontario), CBC News Network, and CTV News, RDI, LCN, free to our TV subscribers until at least April 30. In addition, we are providing an extensive number of free channels for our TV customers and their families to enjoy. These channels are now live on your TV guide and in the VOD section.
We hope that all of you and your near and dear ones get through this difficult period with as little distress or dislocation as possible, and we hope this small token will alleviate some of that for you.
All the best, from your friends at
VMedia