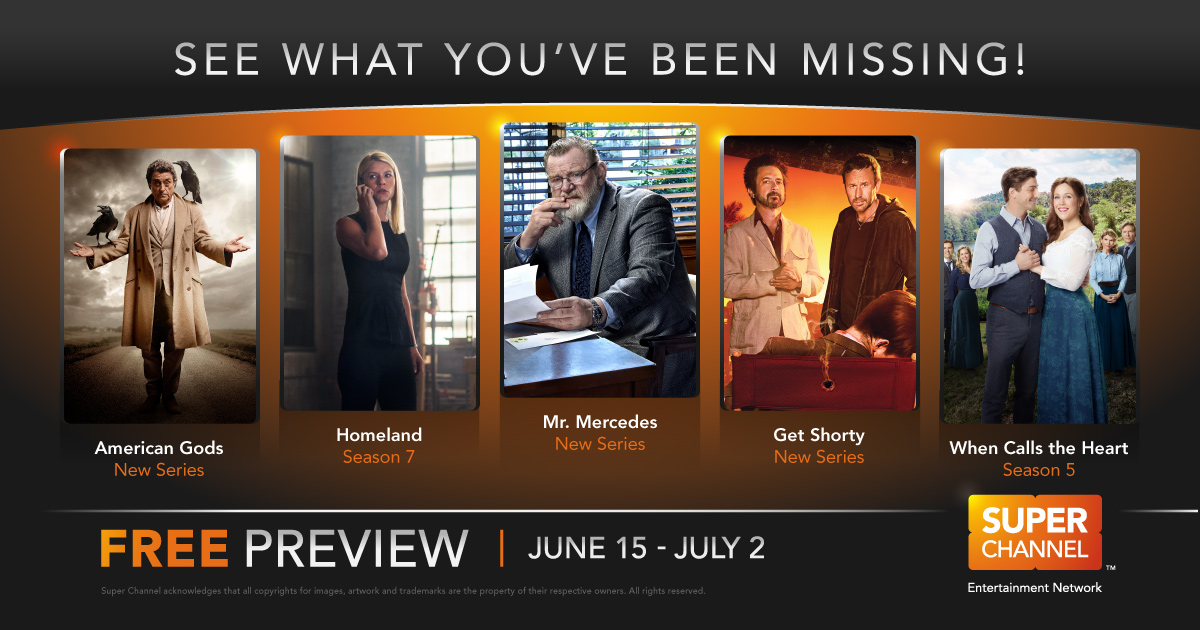 VMediaTV is excited to announce the all-new Super Channel is available in freeview until July 2, 2018! That's right, for a limited time, your VMedia TV subscription gives you free, unlimited access to ALL of Super Channel's programming – that's over 1300+ hours of on demand video, 40+ TV series, and hundreds of movies. A world of entertainment, just a click away.
Enjoy all four Super Channel channels.
Super Channel Fuse (#334)
Enjoy a dynamic fusion of premium programming including exclusive series, movies, documentaries, sports, stand-up comedy, and concerts. Some highlights for the month of June:
Mr. Mercedes (NEW series)
Based on the best-selling novel by Stephen King, following a retired police detective hunts a demented serial killer.
American Gods (NEW series premieres Wednesday, June 20 @ 9 PM EST)
An adaptation of Neil Gaiman's acclaimed novel, American Gods follows the story of a war brewing between the old and new Gods. The traditional Gods of mythological roots are steadily losing believers to an upstart pantheon of Gods reflecting society's modern love of money, technology, media, celebrity and drugs.
Truth (Saturday, June 30 @ 9 PM EST)
Controversy surrounds CBS anchor Dan Rather and 60 Minutes producer May Mapes after the network broadcasts a report about President George W Bush and his military service.
Super Channel Heart & Home (#335)
Feel good entertainment featuring heartwarming series and movie, for everyone in your home. Some highlights for the month of June:
Cedar Cove (Season 3 premieres Sunday, June 3 @ 7:30 PM EST)
A municipal court judge does her best to balance her career with family and finding love – all while doing her best to care for the lakeside township she calls home.
When Calls The Heart (every Saturday in June)
A cultured teacher in 1910 leaves her city life to accept a job in a frontier town, where she finds purpose and love with a Mountie.
Autumn Stables (Sunday, June 9 @ 9 PM EST)
After her husband's death, Autumn sells her ranch to handsome carpenter, Jake expecting nothing will change. However, Jake has ulterior motives with the land and her heart.
Super Channel Vault (#336)
Enjoy a handpicked collection of fan favourites, and critically acclaimed movies. Highlights this month include:
The Town, starring Ben Affleck, Jeremy Renner
Risky Business, starring Tom Cruise, Rebecca de Mornay
Hall Pass, starring Jason Sudeikis, Owen Wilson
Awakenings, starring Robert de Niro, Robin Williams
GINX Esports TV Canada (#337)
The definitive source for Canadian esports enthusiasts, featuring live tournaments, news, and gaming lifestyle programming around the world. Highlights include:
Heads Up Daily (New episodes weekdays)
North America's first and only television show dedicated to esports and gaming, featuring Canadian and international guests.
The First Hour
Knowledgeable and entertaining hosts play the first 60 minutes of a new game or a recent classic for the first time.
Daily Download
Esports current affairs, original stories, exclusive interviews, audience debate and breaking gaming news.
Like what you see? Add our Super Channel theme pack for only $9.95 per month (and get your first month free!), or The Super Premium theme pack with TMN/HBO for only $27.95 per month, and don't miss any of the action.
VMedia TV – More Freeviews. More Fun.