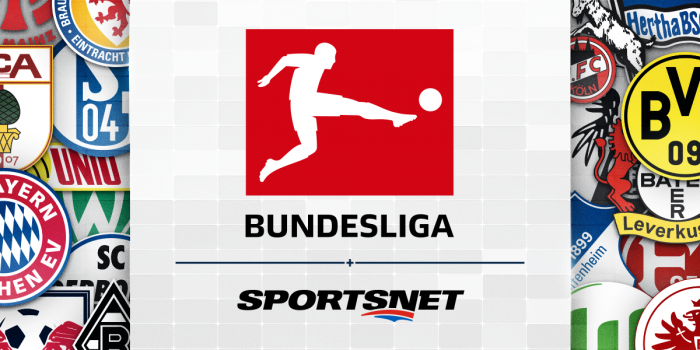 Get your sports fix this weekend on VMedia!
VMedia is thrilled to bring sports-starved viewers the return of Germany's professional soccer league, the Bundesliga, beginning May 16th on Sportsnet. Bundesliga matches will air on Sportsnet (#27), SportsnetOne (#28), and Sportsnet World (#370) this weekend, with a full slate of games scheduled.
After a two-month hiatus due to COVID-19, the Bundesliga returns! With nine match weeks left in the season, the highly anticipated return of Bundesliga action will certainly fill the void for soccer fans across Canada.
This season there is all to play for, with Bayern München, Borussia Dortmund, and RB Leipzig all vying to be crowned champions. Will newly promoted FC Union Berlin avoid relegation and push for a Europe League spot? Or, will they be bested by their cross-town rivals, Hertha? With so many intriguing storylines, we could not be more excited for the return of Bundesliga soccer!
Here is the full schedule for the first week of matches across the Sportsnet networks you will not want to miss:
Saturday – May 16, 9:30AM
Dortmund v Schalke, Sportsnet
Leipzig v Freiburg, SN World
Augsburg v Wolfsburg, SN1
Saturday – May 16, 12:30PM
Frankfurt v Monchengladbach, Sportsnet, SN World
Sunday – May 17, 9:30AM
Koln v Main, Sportsnet & SN World
Sunday – May 17, 12:00PM
Union Berlin v Bayern Munich, Sportsnet & SN World
Monday – May 18, 2:30PM
Bremen v Leverkusen, Sportsnet & SN World
If you do not already have Sportsnet in your VMedia TV lineup, trade up to Premium Flex Sport TV where Sportsnet and SportsnetOne are included for only $52.95/month (1 Month FREE for new TV subscribers), or get the Sportsnet Plus theme pack for $12.95/month!
VMedia – Game On!