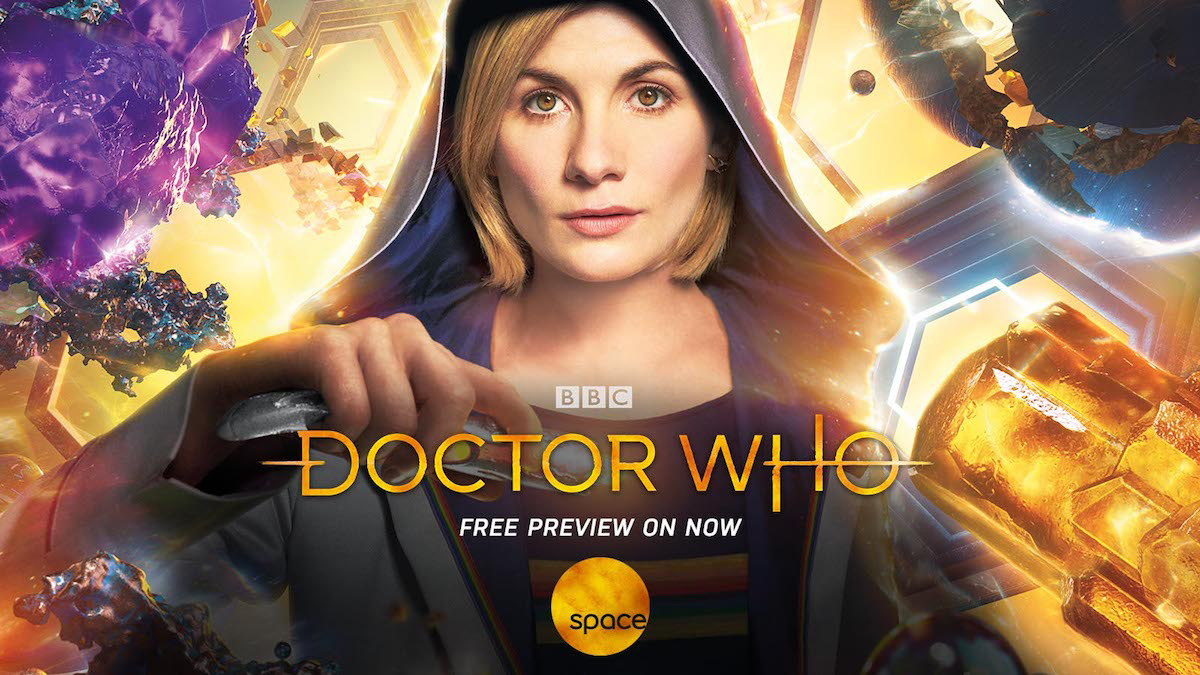 VMedia is excited to announce that SPACE (Channel #281) is now on FREE preview for all VMedia TV subscribers from September 26th until October 24th.
Space is home to imaginative dramas, epic movies and engaging reality series. Space is also the Canadian home of Doctor Who, Castle Rock, Wynnona Earp, Killjoys, and Krypton.
Over the next month, enjoy all of Space's dynamic programming, including the following hit series:
Doctor Who – Season 11
The eleventh season of Doctor Who will introduce Jodie Whittaker as the 13th doctor, the most recent incarnation of the Doctor – an alien Time Lord who travels through time and space in her TARDIS, which appears to be a British police box on the outside. This season will also introduce Bradley wales, Tosin Cole, and Mandip Gill as the Doctor's newest companions.
New to Space!
Arrow – Season 7
Mondays at 8 PM, starting October 15th
After a violent shipwreck, billionaire playboy Oliver Queen (Stephen Amell) was missing and presumed dead for five years before being discovered alive on a remote island in the North China sea. He returned home to Star City, determined to right the wrongs done by his family, to fight injustice, and protect his city as the Green Arrow. The seventh season follows Oliver in the aftermath of outing himself as a vigilante. Oliver will find himself vulnerable in a way unlike ever before when a mysterious new enemy begins to unravel his work as Green Arrow, forcing him to redeem his name or risk losing everyone.
DC's Legends of Tomorrow – Season 4
Mondays, starting October 22nd
Having seen the future, time-traveling rogue rip Hunter assembles a disparate group of both heroes and villains to confront an unstoppable threat – one in which the planet and all of time are at stake. When heroes alone are not enough, the world needs legends. From the creators of The Flash and Arrow, DC's Legends of Tomorrow follows characters from both shows as well as new heroes form the DC comics pantheon – presenting an interconnected universe and edge-of-your-seat action, time travel, and so much more.
Other Returning Series
Supernatural – Season 14
Thursdays at 8 PM, starting October 11th
When they were boys, Sam and Dean Winchester lost their mother to a mysterious and demonic supernatural force. Subsequently, their father taught them about paranormal evil that lives in the dark corners and he taught them how to kill it. Now, the Winchester brothers crisscross the country in their '67 Chevy Impala, battling every kind of supernatural threat they encounter along the way. Season 14 brings these brothers new obstacles and creatures to face.

Stan Lee's Lucky Man – Season 3
Wednesdays at 10 PM, starting September 26th
DI Harry Clayton is a detective in Central London's Murder Squad suffering from an addiction to gambling. Clayton becomes the recipient of an ancient bracelet that grants him the power to control luck, which he quickly uses to his advantage. After having lost the bracelet at the end of season 2, Harry faces a new nemesis on a mission to acquire the bracelet for evildoings. Harry also ventures to Hong Kong to discover the secret behind the charm and becomes enthralled in the underworld, with characters looking for more than just his bracelet.
Space is available as part of our popular Premium Flex TV package, for only $49.95 per month. You can also subscribe to Space with our Entertainment theme pack for $12.95/month ($7.45 with Premium Flex), or individually via our UChoose store from as low as $1.50/month.