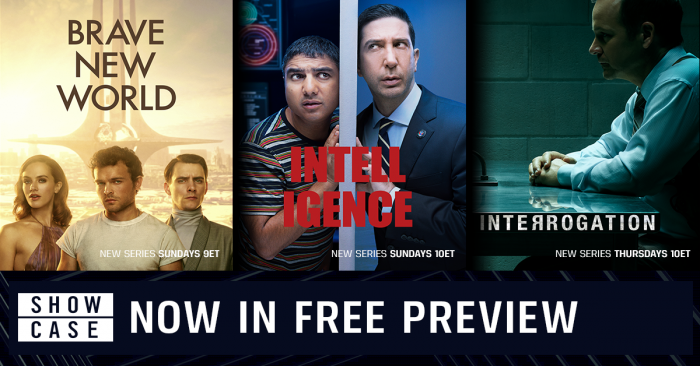 VMedia brings you another free preview – Showcase (Channel #39) is FREE for all VMedia TV subscribers now through September 30th.
Here's your chance to enjoy new premium series, captivating dramas and clever comedies, plus your favourite blockbuster movies, only on Showcase.
Some of our favourites to watch on Showcase – both live and on demand are listed below.
New Series
BRAVE NEW WORLD
SUNDAY SEPT 13 | 9 EST
Imagine a utopian society that has achieved peace and stability though the prohibition of monogamy, privacy, money, family, and history itself. As citizens of New London embark on a vacation to the Savage Lands, they become embroiled in a harrowing and violent rebellion.
INTELLIGENCE
SUNDAY SEPT 13 | 10 EST
Intelligence is a workplace comedy set in the UK's Government communications headquarters – a kind of weedier, geekier, more bureaucratic version of MI5 and MI6, where they tackle international and domestic cyber-crime from a desktop.
INTERROGATION
THURSDAY SEPT 24 | 10 EST
Interrogation is based on a case that spans more than 20 years, in which a young man was charged and convicted of brutally murdering his mother. After being sentenced to life in prison, he continued to fight for his innocence. A riveting story.
ABSENTIA (New season)
THURSDAY SEPT 24 | 9 EST
After the dramatic events of Season 2, Emily Bryne is serving out the final days of her FBI suspension while working hard to be the best possible mother to Flynn. Everything is upended when an international criminal case hits too close to home, threatening the family she is so desperately trying to hold together.
Like what you see during the Freeview? Then add Showcase to your TV channel lineup. Get Showcase in our popular Entertainment theme pack for only $12.95/month. You can also add Showcase 'a la carte' in our UChoose store for just $2.95/month.
Signing up to VMedia's great TV service for the first time?
Take advantage of the special offer on Premium Flex that includes Showcase and 50+ other top channels and get 1 Month Free! Premium Flex is only $52.95/month after.
Watch VMedia TV with your favourite streaming device – Roku players, Roku TV™ models, Amazon Fire TV, Fire TV Edition smart TV, Apple TV, iOS (mobile and tablet) and certified Android TV devices or our VBox.
VMedia TV: More Freeviews, More Enjoyment.