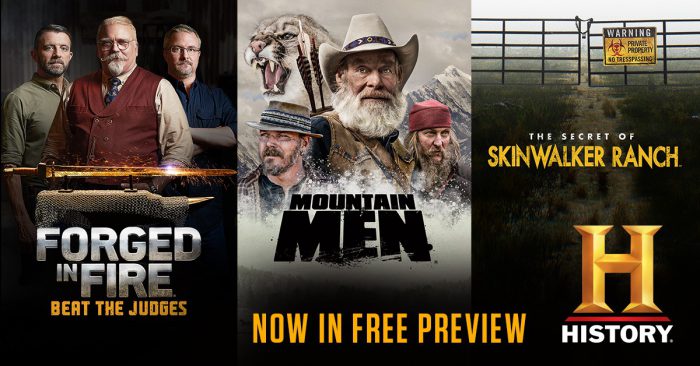 The popular HISTORY channel is now on "Freeview" for all VMedia TV subscribers until September 30th! Watch HISTORY on Channel #43 – live and on demand on us for the next month.
HISTORY explores fascinating stories of human endeavor, achievement and progress through award-winning series and specials that are inspiring and relevant today.
Here's our picks for top shows to check out.
New Series
FORGED IN FIRE: BEAT THE JUDGES
SEPTEMBER 2 WEDNESDAYS 9 EST/PT
Previous Forged in Fire Champions return to square off against our renowned Forged in Fire Masters in the highest stakes forging competition yet! If the challenger can find a way to prevail against our Judge in an intense bladesmithing showdown, they will walk away with $10K and eternal bragging rights.
THE SECRET OF SKINWALKER RANCH
SEPTEMBER 6 SUNDAYS 10 EST/PT
Gaining unprecedented access to one of the most infamous and secretive hotspots of paranormal and UFO-related activities on earth, The Secret of Skinwalker Ranch will feature a team of scientists and experts who will conduct a thorough search of this notorious property attempting to find out the truth behind the mysteries.
New Season
MOUNTAIN MEN
AUGUST 31 MONDAYS 10 EST/PT
Winter in the North American wilderness cannot be conquered. At best, it is endured. And only by those who will fight tooth and nail for the privilege of survival. The Mountain Men have relied on ingenuity, tenacity and determination to weather the worst that the elements could bring to bear. But this season, that cold-forged mettle will be tested like never before.
Like what you see during the Freeview, then add History to your TV channel lineup. Get History in our popular Knowledge theme pack for only $10.95/month. You can also add History 'a la carte' in our UChoose store for just $2.95/month.
Signing up to VMedia's great TV service for the first time?
Take advantage of the special offer we have right now on Premium Flex – Family that includes History and 50+ other top channels and get 1 Month Free! Premium Flex – Family is only $52.95/month after. You can also get History in our Grand Premium TV package also 1 Month Free, then $70.95/month after.
Watch VMedia TV with your favourite streaming device – Roku players, Roku TV™ models, Amazon Fire TV, Fire TV Edition smart TV, Apple TV, iOS (mobile and tablet) and certified Android TV devices or our VBox.
VMedia – More Content. More Enjoyment.