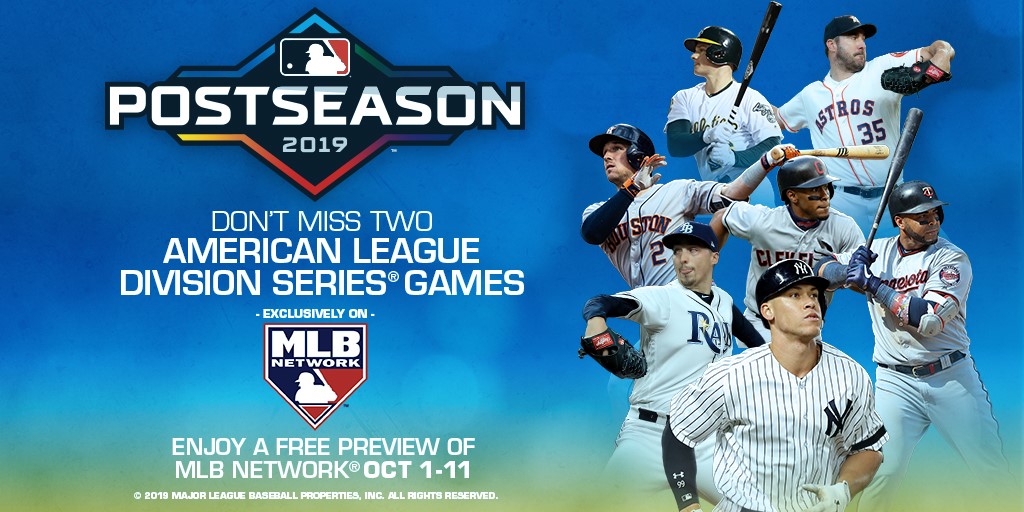 Batter up, baseball fans! Enjoy our Free Preview of MLB Network (Channel #77) – from now until October 11th, 2019.
MLB is the ultimate television destination for everything baseball, including the Multiple Emmy Award-winning "MLB Tonight", live regular season and postseason game telecasts, original programming, news, highlights, and analysis from the best in the baseball business.
Play Ball!
Any day through Saturday, September 28th – Play Ball with Alex Bregman
AL MVP candidate Alex Bregman (Twitter/Instagram) joins Kevin Millar (Twitter) on this week's episode of @MLBNetwork's #PlayBall! Hear from the @astros superstar, Saturday at 10am ET.
Enter to Win!
Any day – CMA Sweepstakes
Want to win a trip to the CMA Awards with @MLBNetwork's Mark DeRosa? Tune in to MLB Central, weekdays at 10am ET, for the daily code and enter for your chance at www.mlb.com/cmaawards
Tune in and Watch
Tuesday, October 1st – MLB Tonight
#Postseason is here! Tune in to @MLBNetwork for coverage before and after tonight's National League #WildCard Game. #MLBTonight.
Wednesday, October 2nd – MLB Tonight
Who will move on to face the Astros in the ALDS? Tune in to @MLBNetwork's pre- and postgame coverage of tonight's American League #WildCard Game.
Enjoy MLB Network on Channel 77 (or 270 in Quebec) with our popular Premium Flex – Classic and Sport, or Grand Premium TV packages. Sign up now and you can get 2 months FREE on Premium Flex, and 1 month FREE if you take Grand Premium.
You can also add the MLB Network onto your TV lineup with Sports Fan, Sports Man, Sports Combo, Super Sports Pack, or TSN Plus Theme Packs. MLB Network is available 'a la carte' in our UChoose store from $1.50/month.
VMedia TV – More Sports. More Excitement.
*Subject to local blackouts.