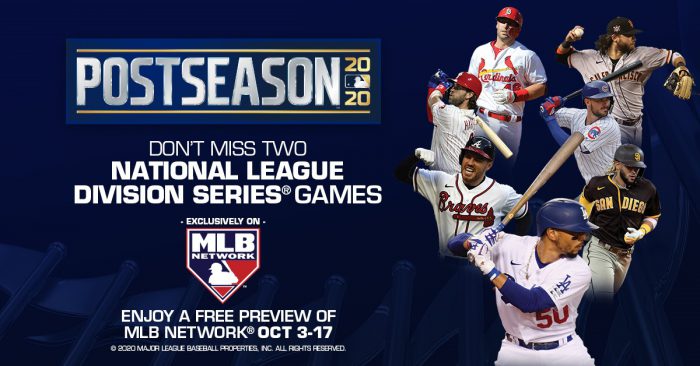 Batter up! VMedia is excited to announce that MLB Network (channel #270 in QC, #77 elsewhere) is now available on Free Preview, until October 17th, featuring two exclusive National League Division Series games.
The weird, short MLB regular season is now over, and it is time for what is sure to be an exciting post-season!
Like everything else in this bizarre calendar year, the MLB playoffs will be different in 2020. How much different? Let's put it this way: The first year Babe Ruth's Yankees won the World Series (1923), there were only 16 MLB teams in the league, total. In 2020, 16 MLB teams will make the postseason.
For the first time in 2020, fans will be allowed to attend Major League Baseball games during the postseason. MLB announced Wednesday that a limited number of tickets will be available for NLCS and World Series games at Globe Life Field in Arlington, Texas. Texas is currently in Phase 3 of its reopening plan, which allows open-air stadiums to admit up to 50 percent capacity.
The highly anticipated MLB Playoff Schedule has finally been announced. Don't blink, or you just may miss a game!
The NLCS will begin Monday, October 12, and run through to Sunday, October 18.
There will be no off-days, so there is a potential to enjoy seven games, in seven days!
The 116th World Series is slated to start with Game 1 on Tuesday, October 20 at Globe Life Field in Arlington, and will run through to Wednesday, October 28, should 7 games be required.
MLB Network is available in our popular sports theme packs, that you can add onto your TV lineup at any time – SportsFan, SportsMan, Sports Combo, SuperSportsPack, TSN Plus, Sportsnet Plus. You can also add the MLB Network individually for $4.95/month from our UChoose store.
VMedia TV – More Sports. More Excitement.