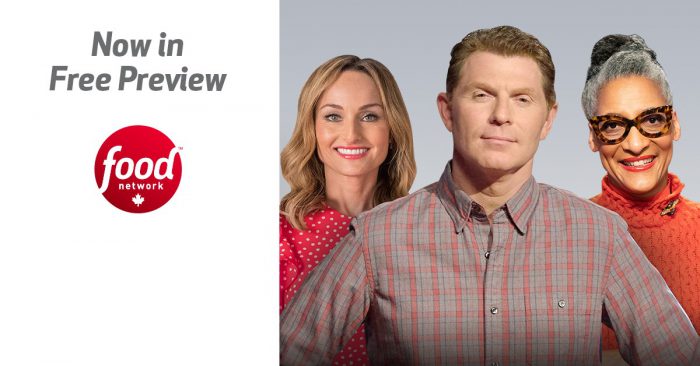 Hey Food Lovers – The Food Network is on FREE Preview for the entire month of October!
Feast on an all-you-can-watch buffet of Food Network Canada (Channel #56).
This October, dig in to these exciting new episodes, new seasons and new shows:
Big Time Bake – New Episodes
Mondays – 10PM
Four bakers create cookies, cupcakes and a showpiece cake in six hours of nonstop competition. Guest judges visit each kitchen to taste and critique the bakers' creations while the clock continues to tick down. The winner gets to finally relax on a dream vacation of their choice.
Wall of Chefs – New Episodes
Tuesdays – 10PM
Hot on the heels from a successful first season, Wall of Chefs tests the skill and nerves of Canada's home cooks as they battle in the Wall of Chefs kitchen, under the towering shadow of the country's best chefs known as "The Wall."
CHOPPED – New Show
Tuesdays – 10PM
Chopped is a cooking competition show that is all about skill, speed and ingenuity. The challenge? They have seconds to plan and 30 minutes to cook an amazing course with the basket of mystery ingredients given to them moments before the clock starts ticking!
Halloween Wars – New Season
Sundays – 9PM
Six teams of cake decorators, candy makers and amazing pumpkin carvers will unite to prove they are the best, walk home with a big cash prize and scare our pants off with some of the most-amazing horror tales — all made from cake, candy and pumpkins.
Outrageous Pumpkins – New Series
Sundays – 10PM
Four of America's best pumpkin carvers come together for a Halloween pumpkin carving competition that defies expectations. The artist that uses their carving and sculpting talents to impresses the expert panel of judges the most takes home a $10,000 prize.
Halloween Baking Championship – New Season
Monday – 9PM
The country's top bakers battle it out to create Halloween's spookiest and most irresistible treats. From creepy-crawly desserts to towering confections of terror, these bakers must prove their skills to a panel in order to land the $25,000 prize and the title of Halloween Baking Champion!
Food Network Canada is available in our popular Premium Flex Lifestyle and Grand Premium TV packages for only $52.95/month or $70.95/month. Sign up now and you can get 1 month Free.
You can also add the Food Network Canada to your TV lineup with our Living and Style & Living Combo theme packs, or get it for as low as $2.95/month from our UChoose . Sign up today!
Bon Appétit!
VMedia – More Content. More Enjoyment.