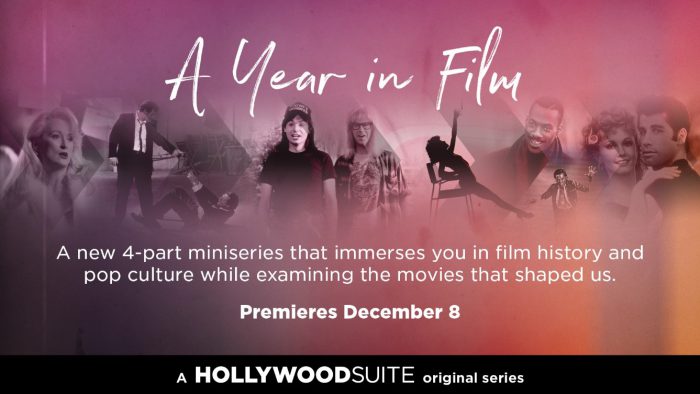 VMedia is pleased to offer Hollywood Suite on FREE preview December 1st until January 5th, 2020 – Just in time for the holidays!
Enjoy these 4 unique channels, uncut and commercial-free, showcasing the best films of the 70s, 80s, 90s and 2000s, free for the entire month of December.
Check out VMedia's movie recommendations below and tune-in to the Hollywood Suite Free Preview on channels 486–489 this holiday season!
A Year In Film – Premieres December 8th at 9 PM – HS00
The new 4-part miniseries from Hollywood Suite examines the lasting impact of films, the technical advancements that brought us today's blockbusters, and what movies can teach us about ourselves and the world we live in. Each episode of first season profiles a different year: 1978, 1983, 1992, and 2007.
Jingle all the Way – December 4 & 5 – HS90
The true meaning of Christmas — desperate last-minute shopping. Howard Langston is a mattress salesman with a bad habit of putting his work ahead of his family. His son Jamie, who wishes Dad would pay more attention to him, wants only one thing for Christmas — a Turbo Man action figure, with all the accessories.
Dirty Dancing – December 5 & 6 – HS80
Don't miss out on this Classic! While holidaying with her parents at a placid resort, Frances is smitten with the resort's rebellious dance instructor. Her father opposes their relationship which creates a rift between him and her. First dance. First love. The time of your life.
The Wizard of OZ – December 15 & 24 – HS70
Gather everyone around for this family favourite; Dorothy Gale is swept away to the magical land of OZ by a tornado. She follows the yellow brick road and embarks on a quest to see the Wizard who can help her return home.
Like what you see? Enjoy all 4 Hollywood Suite channels in our popular Hollywood Suite theme pack for only $5.95 per month, or, add your favourite Hollywood Suite channel from our UChoose store, for only $2.95 per month.
VMedia – More Content. More Enjoyment. More Free Previews.