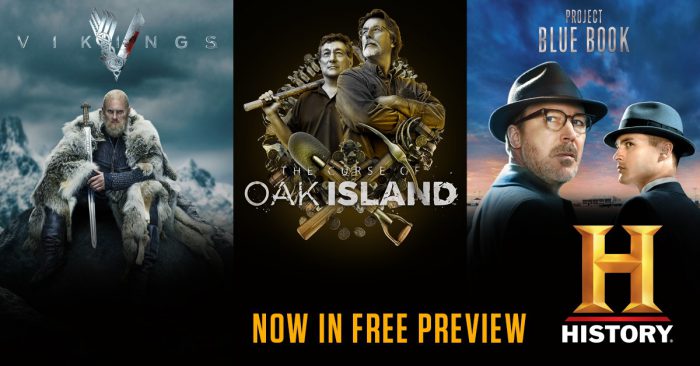 Step back into time with HISTORY TV – VMedia TV subscribers can catch History for FREE from December 1 to January 31, 2020!
HISTORY explores stories of human endeavor, achievement and progress through award-winning series and specials that are fascinating, inspiring and relevant to today.
This winter, HISTORY will see the highly anticipated return of its two biggest series, Vikings and The Curse of Oak Island.
The Curse Of Oak Island – New Episodes, Sunday 10 PM
Armed with the knowledge of those that came before them, the muscle of heavy machinery and decades of engineering know-how, the Laginas and their partners may be closer than anyone in history to finding the treasure that has so far claimed the lives of six men.
Vikings – New Episodes, Wednesday 10 PM
In the wake of the Civil War, Bjorn Ironside has taken the throne, seeking to bring peace and prosperity through trade, and fairness to a war-torn Kattegat. Oleg seeks to wage war on Norway and retake Kattegat for his own, with Ivar at his side. Lagertha has settled into a domestic life on the farm, worn weary by a lifetime of battle and suffering. While Ubbe and Torvi travel to a rugged settlement in Iceland where they learn of a new "green land" and plan to chart a course to see for themselves.
Project Blue Book – New Season in January
Set against the backdrop of the Cold War and rising Atomic Era, Project Blue Book is a thrilling series inspired by the real-life Project Blue Book, the U.S. Air Force's investigation of UFOs. Dr. Hynek's quest to discover the truth behind a string of mysterious sightings, he will slowly come to realize that he is at the center of a vast, dangerous cover-up – one that will put him and those closest to him in peril.
Enjoy the HISTORY HD channel when you subscribe to our popular Premium Flex – Family Package. Take advantage of the special offer we have right now on Premium Flex – Free for 2 Months (only $49.95/month). You can also get History in our Grand Premium TV package- Free for 1 Month (only $67.95/month offer) respectively. You can also add History as an a la cart channel in our UChoose store for only $2.95/month, or with our knowledge theme pack.
VMedia – More Content. More Enjoyment.