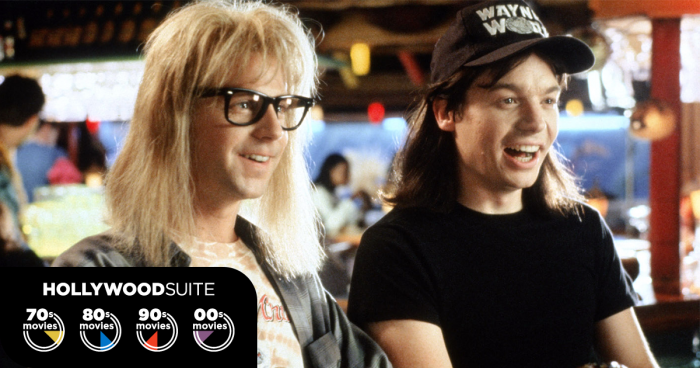 VMedia is pleased to offer Hollywood Suite on FREE preview until January 5, 2018 – Just in time for the holidays!
Enjoy these 4 unique channels, uncut and commercial-free, featuring hit movies from the 70s, 80s, 90s and 00s, free for the entire month of December.
Check out VMedia's movie recommendations below and tune-in to the Hollywood Suite Free Preview on channels 486–489 this holiday season!
Cloudy with a Chance of Meatballs – December 10 on HS00
When scientist Flint Lockwood finally makes an invention that will impress his father and the small town he lives in, he quickly finds he may have bitten off more than he can chew. Writer/directors Chris Lord and Phil Miller bring huge laughs to kids and adults alike in this animated feature lovingly crafted before they went on to huge hits like The Lego Movie and 21 Jump Street.
Pretty In Pink – December 15 & 16 on HS80
Molly Ringwald became everyone's 80s crush as Andie Walsh in this 1986 classic written by teen movie master John Hughes. Funny, frothy and with a hell of a soundtrack, this romance invites the biggest debate of the 80s: Should Andie choose Duckie or Blaine?
Wayne's World & Wayne's World 2 – December 20 & 21 on HS90
Mike Myers and Dana Carvey rode Saturday Night Live's 90s boom straight to the box office. Join Wayne and Garth as they headbang their way through Bohemian Rhapsody and into a sequel some fans think is even better than the original.
Willy Wonka and The Chocolate Factory – December 23 & 24 on HS70
This 1971 Roald Dahl adaptation became a classic thanks to its sly humor, memorable songs and the unforgettable performance of Gene Wilder. Willy Wonka was so lovingly crafted by Wilder, he only agreed to take on the role if he could perform his tumbling introduction you see in the film.
The Godfather, The Godfather II & The Godfather III – December 24 & 25 on HS70 & HS90
Francis Ford Coppola's classic trilogy explores the corrupting nature of power by following a mafia family across multiple generations. With a combined 9 Academy Awards, it remains one of the most important and successful franchises in film history.
Batman – December 24, 25, 28 & 29 on HS80
It's classic comic book action when Michael Keaton's Caped Crusader must stop Jack Nicholson's Joker from destroying Gotham City. Since the boom in superhero movies, Tim Burton's 1989 classic has come to be known for its idiosyncratic take on the Dark Knight and its stunning visuals.
Like what you see? Enjoy all 4 Hollywood Suite channels in our popular Hollywood Suite theme pack for only $7.95 per month, or, add your favourite Hollywood Suite channel from our UChoose store, for only $2.95 per month. Try them, and then sign up!
VMedia TV – More Free Previews