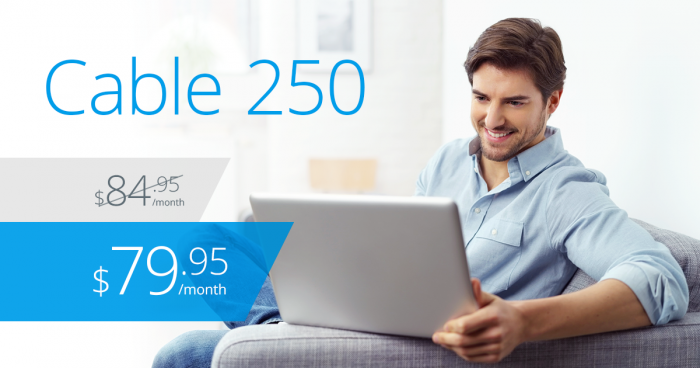 Hey Speed Enthusiasts! Have you checked out VMedia's new lower prices on our higher cable speeds? In Ontario, VMedia's Cable 250 plan has been reduced $5 to $79.95/month. In Quebec, our popular Cable 200 plan has been lowered $20 to $79.95/month, and our Cable 120 plan has dropped $5 to $69.95/month. With these blazing fast speeds, enjoy superior performance at a price point that offers tremendous value.
Best of all, VMedia internet plans includes unlimited usage – no data caps – so you can surf, download, stream and more, without worrying about nasty data overage charges or additional fees showing up on your monthly bill. Unlimited internet rules.
Did you know that new VMedia subscribers can take advantage of our terrific TV promo offer right now – 3 months FREE TV? Yes, sign up to our Skinny TV package and you can enjoy up to 30 TV channels, including all the major Canadian and US networks, CTV, CBC, Global, ABC, CBS, NBC, FOX, PBS and more, FREE for 3 months. That's over $50 in value. Better yet, live large and apply that credit towards our popular Basic or Premium Basic TV packages, available for only $12/month or $27/month respectively, for the first three months. Enjoy your favourite specialty channels – Sportsnet, TSN, A&E, AMC, Bravo, CNN, CP24, Discovery, E!, Space, Turner Classic Movies, The Comedy Network, TLC, YTV, and many more. Now is the best time to try out VMedia's innovative TV/Streaming platform; all your favourite content, fast access, cool features – and one set top device. Limited Time Offer.
Don't get left behind, check out all of our unbeatable, unlimited plans here.
VMedia – Faster speeds. Lower prices.