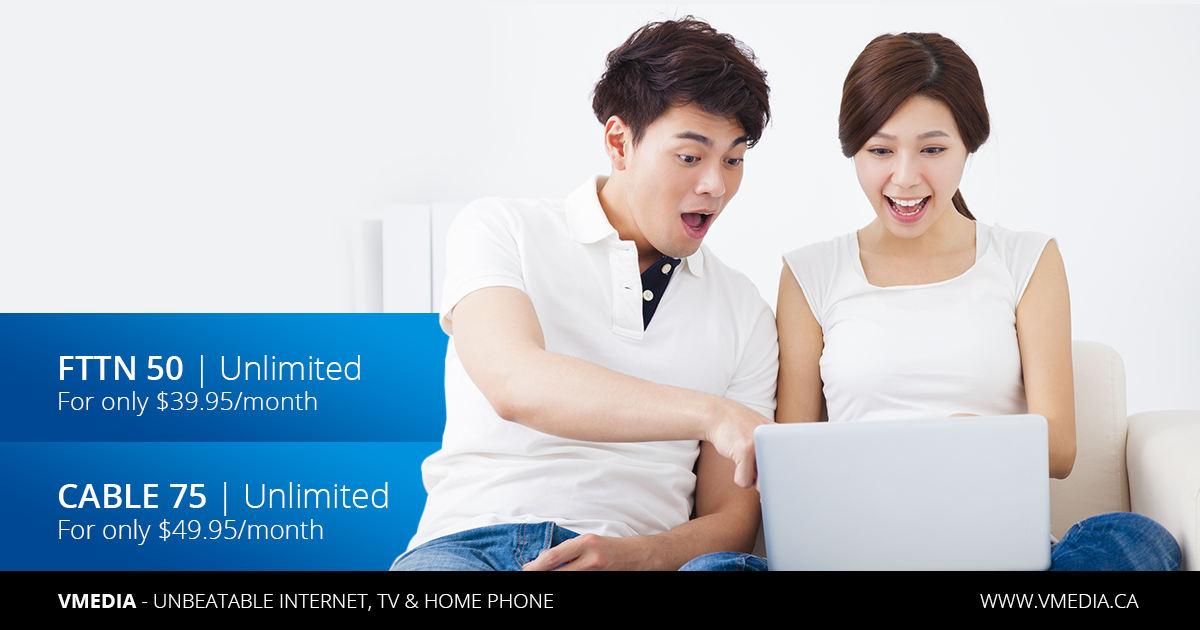 Do you want fast, reliable, high-speed internet service on a major network and not pay a bundle? How about unlimited usage so you can surf, stream, download without any extra data charges?
Then VMedia unlimited internet plans are for you – we offer the lowest prices and best value for unlimited, high speed internet – both cable or DSL/FTTN – and all with no contracts, no credit checks and no cancellation fees.
Check out these low prices on our Cable 60Mbps/75Mbps internet plans, as well as FTTN 50 that is available in Ontario, Quebec, and parts of Western Canada. With VMedia – you save every month – up to $120 off our already low price! Plus, you can bring your own modem too.
Are you already on cable or DSL/FTTN Internet service at your home? Well even better, you can be pre-approved for that platform so switching has never been easier. Enjoy the same or better speed, the same network, with unlimited usage and at a much lower monthly cost!
For those in Ontario with access to Rogers cable internet, sign up to our Unlimited Cable 75 plan and pay only $49.95/month for the first 12 months. Plus, enjoy FREE installation for a limited time. Compare that to our regular price of $56.95/month and enjoy real savings.
Living in 'La belle province' of Quebec? Take advantage of our Unlimited Cable 60 plan on the Videotron network and pay only $49.95/ month, instead of $59.95 for 12 whole months – a savings of $120!
In Western Canada, our Unlimited Cable 60 plan is available on the Shaw network for only $49.95/month, instead of our everyday low regular price of $59.95 – again a $120 savings and tremendous value!
Prefer FTTN on the Bell or TELUS network? VMedia can deliver great savings to you as well. Get the FTTN 50 on these networks and pay only $39.95/month for the first year, compared to our everyday low regular price of $49.95. Wow! $120 in savings.

VMedia is the best value in high speed home internet service:
Low, Low prices – so big, big savings
Unlimited usage
Already on Cable or DSL/FTTN – you are pre-approved
No contracts, no credit checks, no cancellation fees
So go ahead, don't delay – join VMedia and start saving. Unlimited home internet service is waiting for you.
VMedia Unlimited Internet – High speed internet and low, low prices. Sign up today.
Please Note: This special and limited time promotion is available to new customers only.