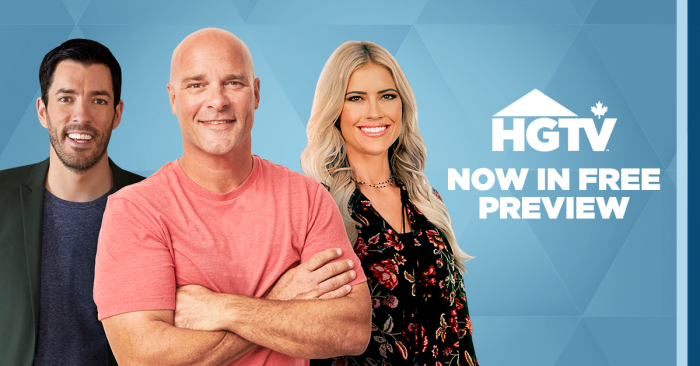 Get your hard hats on – HGTV Canada is on Free Preview from now until November 30th for all VMedia TV subscribers!
HGTV Canada is your true partner for your home – with terrific programming that celebrate the spirit of home through inspiring design, renovation and of course, real estate shows. It is the network where the experts are your guides and friends help viewers realize what is possible.
Enjoy HGTV on channel #46 in your TV Guide in all provinces except Quebec where it is on channel #220.
Here's what to watch this month:
Home to Win: For the Holidays
Sundays at 10p.m. EP
Canada's top builders, designers and real estate experts bring their extraordinary skill, creativity and reno know-how to completely restore this season's property: an aging Victorian home in dire need of a modern makeover. New this year, the renovations and competition will be holiday themed with the home rewarded just in time for the holiday season!
Rock The Block
Sundays at 9p.m. EP
The sledgehammers are out as Four of HGTV's brightest home renovation experts square of. With just four weeks and $150,000 each, the homes have been selected, and now all that's left is for these four female renovators to Rock the Block.
Flip or Flop
Wednesdays at 9p.m. EP
Flipping team Tarek and Christina have viewers on the edge of their seats as they purchase dilapidated properties for cash, sometimes sight unseen, and then renovate and flip them for resale. From nail-biting purchases at auction, to the sometimes-exasperating renovations, discouraging showings and exhilarating sales, will the Flip or Flop?
Hot Properties: San Diego
Saturdays at 9p.m. EP
From ingenious promotional ideas to mind blowing home renovations, these real estate superstars are willing to do whatever it takes to help homeowners get top dollar. Whether it's knocking down the walls of an outdated family home or hosting the perfect open house in a problematic location, no risk is too big if it helps make the sale.
HGTV Canada is included in our popular Premium Flex Lifestyle and our Grand Premium TV packages, $49.95/month and $67.95/month. You can also subscribe to HGTV Canada with our popular Living and Style/Living Combo theme packs for only $8.95/month and $13.95/month or individually through our UChoose store for just $2.95/month.
VMedia TV – More Content, More Enjoyment.