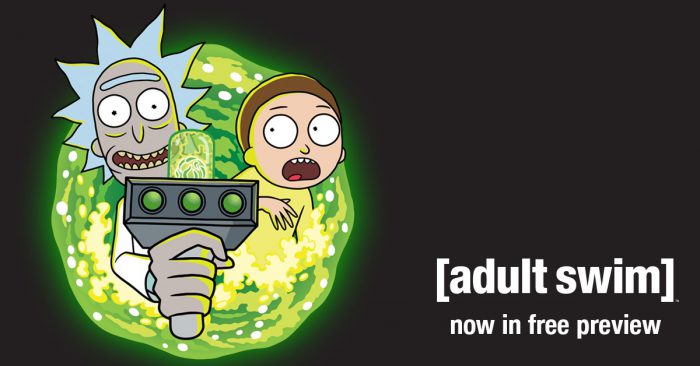 Now's your chance to check out Canada's hottest new channel for millennials – Adult Swim FREE. Adult Swim is on free preview until November 30th, 2019.
Adult Swim is the world's first ever 24-hour Adult Swim channel. What is Adult Swim content? A highly entertaining and unexpected blend of authenticity, originality, and cleverness that is engaging audiences with a bold and irreverent voice. Adult Swim offers an immersive experience that places fans at the center, bringing together comedy, gaming, music and live events.
You can find Adult Swim on channel #82 in all provinces except Quebec where it is on channel #292.
Here's what to check out this month:
Rick and Morty
November 10th 11:30pm EST
Critically-acclaimed and award winning comedy comes to Adult Swim. Rick is a mad scientist who drags his grandson, Morty, on crazy sci-fi adventures. Their escapades often have potentially harmful consequences for their family and the rest of the world.
Robot Chicken
Sundays at 12:00am EST
Robot Chicken uses stop-motion animation to bring pop-culture parodies to life in a modern take on the variety/sketch show format. This Emmy Award-winning began airing in February 2005 and remains among the top-rated original series on Adult Swim.
Mr. Pickles
Sundays at 12:45am EST
The show centers on the lives of the Goodman family and their innocent six-year-old son Tommy, whose best friend is the family's lovable border collie, Mr. Pickles. The two roam around Old Town together getting into classic adventures. Unbeknownst to Tommy and everyone else, except Tommy's Grandpa, Mr. Pickles has an evil streak.
Enjoy Adult Swim in our popular and most comprehensive TV package, the Grand Premium for $67.95/month, or get Adult Swim in your TV lineup with our Movies theme pack for only $7.95/month. You can also add Adult Swim to your channel lineup for as low as $2.95/month in our UChoose store.
VMedia TV – More Content. More Enjoyment.