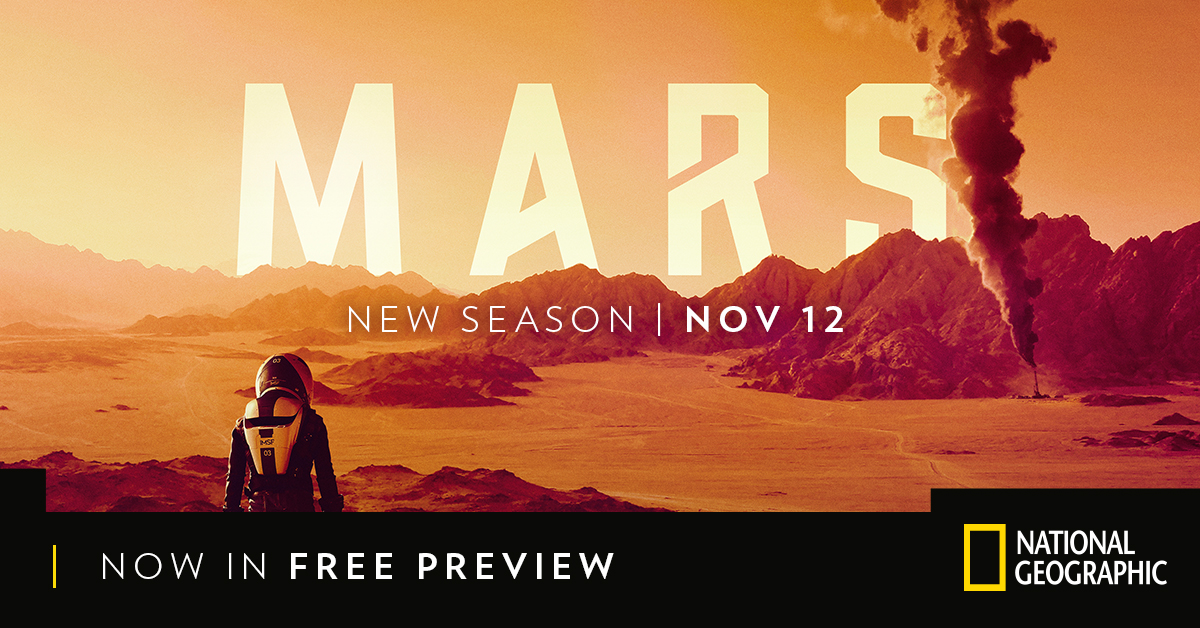 Get your lab coats on and get ready for a free preview of National Geographic! All VMedia TV subscribers can explore the world free from November 1st to November 30th. National Geographic lives at the edge of science and exploration, delivering compelling stories through innovative, adventurous and thought-provoking programming that questions what we know, how we view the world and what drives us forward.
Mars
New Season, November 12, 9 PM Set in the future and the present, this brand new mini-series event blends feature film quality scripted elements and visual effects with documentary-style interviews with today's brightest minds in modern science. Mars illuminates the development behind the modern day space race, while dramatizing humanity's first attempt to colonize the red planet.
Star Talk
New Season, November 6, 10 PM
Host Neil deGrasse Tyson brings together celebrities, scientists, and comedians to explore a variety of cosmic topics. Pop culture collides with science on this late-night show with topics ranging from popular science fiction, space travel, extra-terrestrial life, the Big Bang, to the future of Earth and the environment.
Dr. Oakley Yukon Vet
New Episode, Thursdays 8 PM
Going across thousands of acres in the Yukon and hundreds of species of animals, Michelle Oakley's veterinarian practice is tough. For Dr. Oakley, every house calls is a new adventure – with cases ranging from expelling dogs anal glands to getting chased down by the very large Arctic musk-ox. Armed with sharp humour and her daughters, Dr. Oakley juggles being a full time Vet, wife and doctor and takes us into unexplored regions of the Yukon.
Fish My City with Mike Iaconelli
New Episode, Wednesdays 9 PM
Mike Iaconnelli guides viewers on an unpredictable journey through different major cities around the world, uncovering stories of strange and amazing fish. His mission: to catch three specific species of the fish called his "bucket list fish". Along the way, he encounters old friends and knowledgeable locals with invaluable intel in a bid to come face-to-face with the most legendary fish species in each city.
Subscribe to National Geographic with our popular Grand Premium TV package for $67.95/month. You can also add National Geographic with our Information theme pack for only $7.45/month or individually through our UChoose store for just $2.95/month.
VMedia TV – More Freeviews, More Enjoyment.