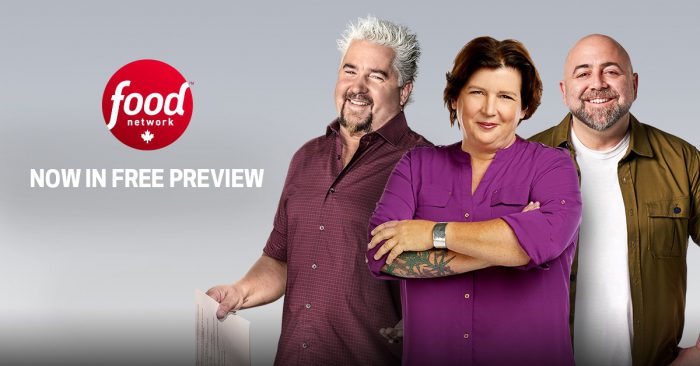 Hey Foodies – The Food Network is now on FREE Preview until May 31st, 2020.
Here is your chance to enjoy all the great shows, delicious recipes and cooking secrets from the best in food programming.
Food lovers can get their fill of comfort watching the new season of Top Chef Canada and The Big Bake: Spring, and feast on the new series of Junior Chef Showdown. From high-stakes culinary competitions to inspiring food stories, Enjoy an all-you-can-watch buffet of Food Network Canada until the end of the month.
Here are some top shows to catch:
Top Chef Canada – Mondays 10pm
Canada's most prestigious culinary competition is back with twelve of the country's best up and coming professional chefs competing for the title of Canada's Top Chef.
Junior Chef Showdown – Tuesdays 9pm
Small cooks display extra-large talent on Junior Chef Showdown, a new culinary competition series that highlights the abilities of extraordinary young chefs between the ages of 9 and 13. Each week they face a Skills Test and a Cooking Challenge that determine who leaves the kitchen.
The Big Bake: Spring – Tuesdays 9pm
Three professional baking teams have five hours to design, bake and decorate a grand-scale cake creation based on a particular theme. These bakers need to think big and bold, blowing up their designs to gigantic proportions and thinking outside the (bakery) box.
Food Network Canada is available in our popular Premium Flex Lifestyle and Grand Premium TV packages for only $52.95/month or $70.95/month. Sign up now and get 1 Month FREE!
You can also add the Food Network Canada to your TV lineup with our Living ($8.95/month) and Style & Living Combo ($13.95/month) theme packs, or get it for as low as $2.95/month from our UChoose store with 2 Months FREE. Sign up with VMedia today.
VMedia – More Content. More Enjoyment.