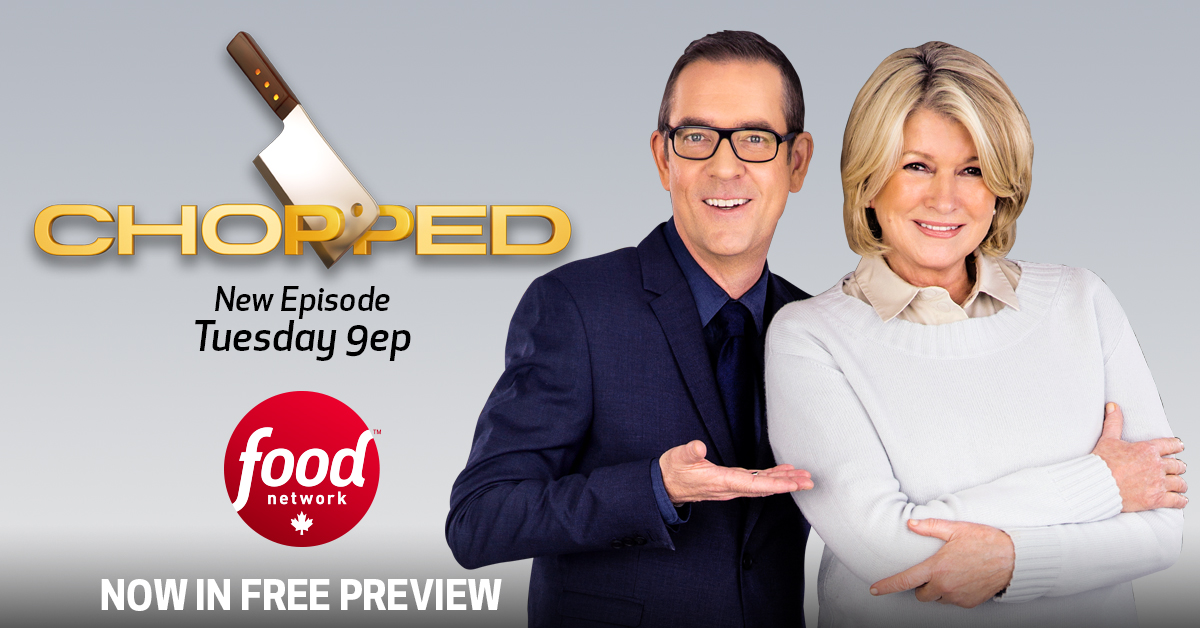 VMedia TV invites you to an all-you-can-watch buffet of Food Network Canada (Channel #56) with an exciting FREE preview, available until October 31st. Enjoy FREE access to Food Network Canada all month long!
From inspiring food stories to high-stakes culinary competitions, Food Network Canada is the experiential, social and digital epicenter of food entertainment. Featuring iconic public figures such as Martha Stewart, and world renowned chefs such as Bobby Flay, Mark McEwan and more!
This October, dig in to these exciting series:
Iron Chef Canada
Thursdays 8 PM, premiering October 18
The world's biggest, boldest food competition series comes north of the border. In Iron Chef Canada, renowned chefs from across the country face off against celebrated Canadian Iron Chefs in culinary battles.
Halloween Baking Championship
Mondays 9 PM
This month, Comedian John Henson welcomes eight talented bakers into the Halloween Baking Kitchen for spooky challenges and scary critiques from costumed judges. One baker will rise to claim the the title of Halloween Baking Champion and a $25,000 prize.
Cutthroat Kitchen: Tournament of Terror
Tuesdays 10 PM
Fearless chefs come together for a five-part celebration of all things spooktacular – with a focus on Halloween-themed cooking and challenges. Think witches, mummies and ghosts – and their usual tricks and treats. Sixteen chefs will face off over four preliminary heats for the grand finale, when the winners of early rounds will return for an anything-can-happen showdown.
Chopped
Tuesdays 9 PM
Each week, four chefs compete before a panel of expert judges and turn baskets of secret ingredients into a three-course meal. Course by course, the chefs are 'chopped' from the competition. This season, culinary queen, Martha Stewart joins Ted Allen at the judges table. Who will make the cut?
Halloween Wars
Sundays 9 PM
Halloween Wars – a five-part series – features six teams of cake decorators, candy makers and amazing pumpkin carvers who unite to prove they are the best. They will aim to scare our pants off with some of the most amazing horror tales – all made from cake, candy and pumpkins – to go home with the big cash prize.
Food Network Canada is available in our popular Premium Lifestyle and Grand Premium TV packages for only $49.95/month or $67.95/month, respectively. You can also add the Food Network Canada to your TV lineup with our Living and Style & Living Combo theme packs, or get it for as low as $1.50/month from our UChoose store. Sign up today.
Bon Appétit!