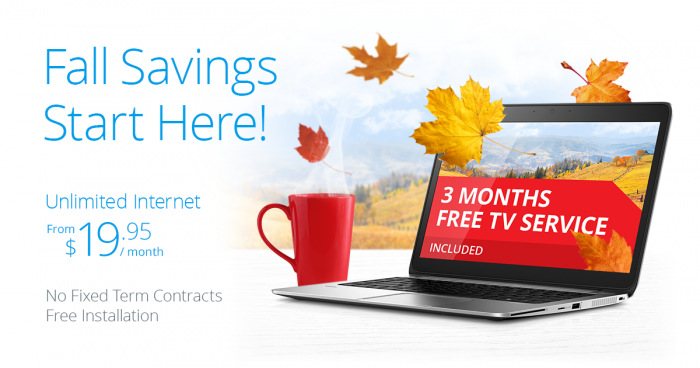 Yup, that's right! Sign up to any one of our unbeatable, unlimited high-speed internet plans, and receive 3 months of VMedia's innovative TV service FREE. Catch the season's most anticipated, hot new TV series, along with the return of your favourites, with VMedia TV.
Get our terrific Skinny TV package, which includes all the major Canadian and US networks (CTV, CBC, ICI, TVA, Global, NBC, ABC, CBS, FOX, PBS and more), all in beautiful HD. VMedia's Skinny TV package is the lowest priced starter plan on the market today – only $17.95/month. Get it free for 3 months and enjoy the best of Fall TV. Plus, with free installation right now, save up to $100.
Want more TV and your favourite specialty and sports channels? Save big on our Basic TV package, which includes all the channels in Skinny, plus popular channels including TSN, YTV, E!, CTV News Channel, MuchMusic, and CP24 (where available). VMedia's Basic TV package is regularly priced at only $29.95/month, but sign up today and pay only $12.00/month for the first three months.
Or live large and enjoy VMedia's best-selling TV package – Premium Basic – with up to 70 great channels. Enjoy everything in our Basic TV package, plus all the regional Sportsnet channels, SportsnetOne, CNN, AMC, A&E, Showcase, Bravo, Discovery and many more. Sign up today and pay only $27.00/month for the first three months, and then only $44.95/month.
With VMedia TV, not only do you get access to your favourite TV channels, but you also get to enjoy our unique TV features, including VCloud ("look back") TV on up to 27 key channels. Miss your favourite show this week? No problem – we saved it in the cloud for you. A world on entertainment, just a few clicks away.
Sign up for VMedia TV today and enjoy the best of Fall TV this season. We offer numerous Cable or DSL/FTTN high-speed internet plans to suit every need, and all plans feature unlimited usage without overage fees or usage caps. Plus, no fixed term contracts and no cancellation fees.
Switch to VMedia today!
[/vc_column_text][/vc_column][/vc_row]