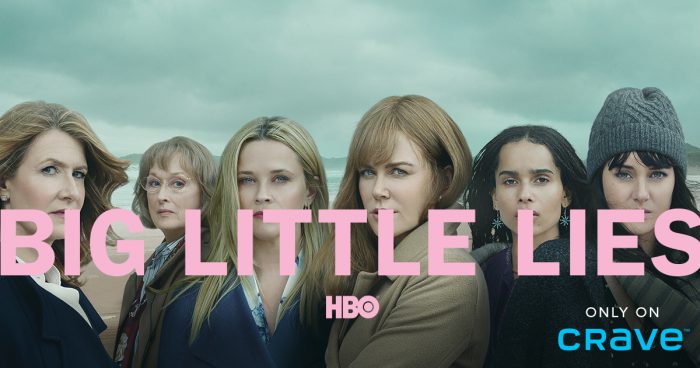 Check out our special offers right now on Crave + Movies + HBO, our most popular theme pack. Subscribe to VMedia TV with Crave + Movies + HBO as part of your TV lineup and the first 2 months for this theme pack will be on us.
Already a VMedia TV subscriber? Then sign up to Crave + Movies + HBO and we will give you 50% off for 4 months. Great savings either way! Add quickly and easily via your My Account today!
These offers end soon, so don't delay. See our TV packages here.
Crave + Movies + HBO gives you access to top quality TV entertainment with hit shows such as HBO's Big Little Lies, HBO's Chernobyl, The Handmaid's Tale, movies like A Star is Born and much more. Here is some more info on what you can enjoy:
Big Little Lies, Season 2 (Sunday's at 9:00pm)
HBO's award-winning drama of murder and mischief, Big Little Lies returns for a second season and explores the malignancy of lies and durability of friendships. Created by David E. Kelley, featuring Reese Witherspoon, Nicole Kidman, Shailene Woodley, Laura Dern and Zoë Kravitz. Catch up and enjoy Season 1 "On Demand".
The Handmaid's Tale, Season 3
The third season of Hulu's Emmy Award-winning series is driven by titular handmaid June's (Elisabeth Moss) resistance to the dystopian regime of Gilead, in which she finds herself once again. Now, she will struggle to strike back against the regime against overwhelming odds, and guided by one defiant prayer: "Blessed be the fight". Binge on the earlier seasons "On Demand"
Chernobyl
A superb historical drama (UK and HBO co-production) based on the real life 1986 nuclear accident in Russia, what actually led up to the disaster and how the scientists and government officials handled this event internally and to the outside international community . Watch all episodes "On Demand".
VMedia TV packages come with great savings in addition to the Crave + Movies + HBO theme pack offer. Want a TV line-up with all the top channels? Premium Flex, our most popular TV package offers the best set of top channels for the lowest price – only $25/month (6 Month Promo, then reg. $49.95/month). And Premium Flex comes in your choice of four themes: Classic, Sport, Lifestyle and Family packed with terrific specialty channels.
VMedia TV- More Content, More Enjoyment.