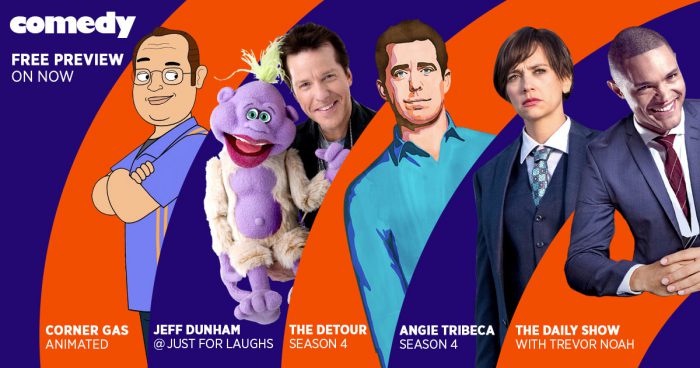 VMedia is pleased to bring you a free preview of Comedy Network, from now until July 30, 2019!
The Comedy Network broadcasts an uncut and uncensored, and eclectic mix of scripted, stand-up, sketch, improve and animated comedy, as well as topical comedy talk shows, game shows and classic situation comedies.
During the free preview, enjoy unrestricted access to all of Comedy Network's popular programming, including:
Full Frontal with Samantha Bee – Wednesdays, 10:30 PM ET
Emmy Award-winning Full Frontal with Samantha Bee shines a spotlight on stories inside the beltway and beyond. One of the most unique and visible comedic voices on television, Samantha Bee is breaking up late-night's all-male party.
Corner Gas Animated – Monday July 1, 8:00 PM ET
Life in Dog River is about to get a lot more animated. CORNER GAS ANIMATED, the unlimited new series from Canada's #1 comedy franchise, features gas station owner Brent Leroy (Comedian, Creator, Executive Producer, Showrunner and Star, Brent Butt) and the colourful characters of Dog River, a tiny Saskatchewan town where everyone knows everyone's business, whether they want to or not.
Jeff Dunham @ JFL Special – Wednesday July 3 & Wednesday July 10, 10:00 PM ET
World-famous comedian ventriloquist Jeff Dunham brings his effortless charm and inappropriate puppet friends to the gala stage in two new specials from Just For Laughs. Each unique one-hour episode features stand-up from the biggest names in comedy as well as politically incorrect humour from Jeff's classic characters. Featuring Tom Papa, Deon Cole, D.J. Demers, Brent Butt, Brad Williams, Robert Kelly, Rachel Feinstein, Matteo Lane, Lavell Crawford, and more.
The Detour – Tuesday July 2, 10:30 PM ET
Season four finds the wildly dysfunctional Parker family on an epic world-wide search for their runaway teen daughter, Delilah. From Tibet to Paraguay and everywhere in between, The Parkers will stop at nothing to get their baby girl back – and piss off everyone in the process.
Angie Tribeca – Thursday July 4,10:30 PM ET
In season four, it's been 20 years since the law wrongfully turned on Detective Angie Tribeca (Rashida Jones) and tossed her in jail. Now, Tribeca is out, reunited with her team, Lt. Atkins (Jere Burns), Dr. Scholls (Andrée Vermeulen), estranged son, Angie Jr. (Bobby Cannavale) and the young and brilliant Maria Charo (Kiersey Clemons) fighting for the good guys. Or so they think. No, they are. Or, are they? They are. Just kidding. Or are we?
The Daily Show – Mondays to Thursdays, 11:00 PM ET
Trevor Noah and The World's Fakest News Team tackle the biggest stories in news, politics and pop culture.
Enjoy Comedy Network when you subscribe to our popular Premium Flex – Classic TV Package. Take advantage of the special offer we have on right now on Premium Flex – only $25/month (for 6 months, then reg. $49.95/month). Comedy is also included in our Grand Premium TV package for only $43/month (for 6 months then $67.95/month). Comedy Network can also be added to your TV line up in our Entertainment theme pack, available from as little as $7.45/month, or individually through our UChoose store from as low as $1.50/month.
VMedia TV – More Freeviews, More Enjoyment.