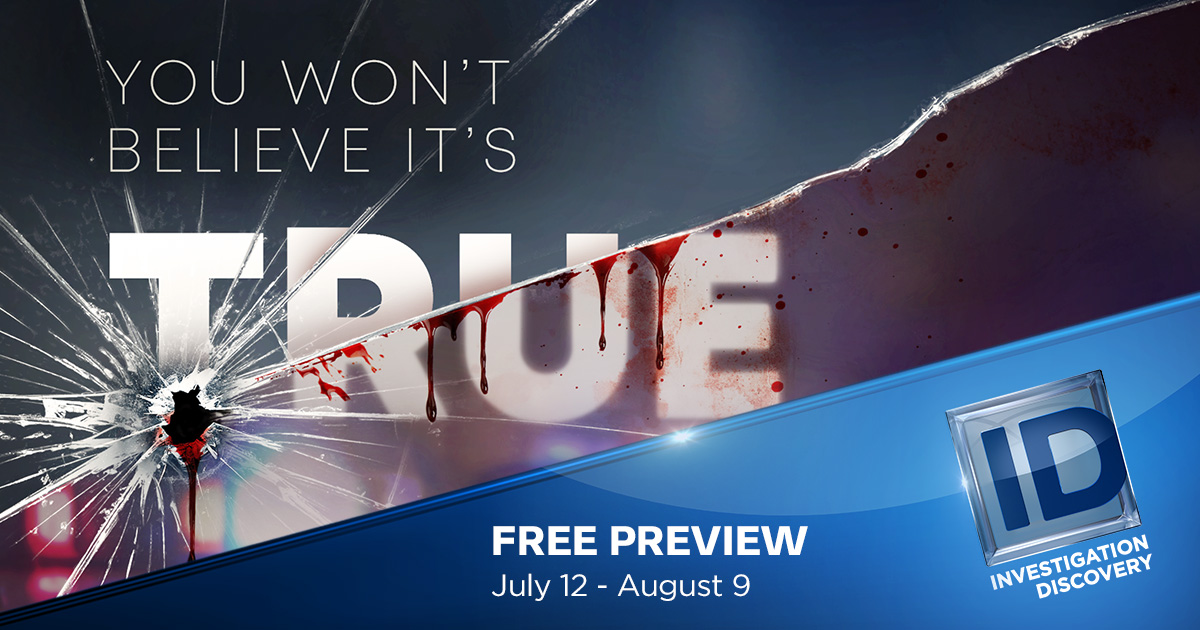 VMedia TV is excited to bring you Investigation Discovery FREE from July 12th through August 9th. Investigation Discovery, part of the Discovery portfolio of premium specialty channels, features original productions of primarily documentary-style programming, with a true crime focus. Over the next month, crime buffs can catch exciting new series, as well as returning series — free with your VMedia TV subscription. Here are some must-watch series:
Killer Women with Piers Morgan – NEW SERIES
Wednesday, July 25 – 9 PM
Piers Morgan steps into a maximum security prison to interview five female murderers who have committed unspeakable crimes. Through emotional interviews with the women and people closest to the cases, each episode examines the killer's mindset then and now. Whether or not they have admitted to the murders, Morgan attempts to find out what happened and what may have driven these women to kill.
Breaking Homicide – NEW SERIES
Tuesday, July 31 – 9 PM
Breaking Homicide follows former Rhode Island Police Detective Derrick Levasseur and Forensic Psychologist Kris Mohandie as they answer the pleas of a desperate family and investigate the cold case murder of their loved ones. Some cases are complete mysteries, while others have a strong person of interest but not enough evidence to get a conviction. In every episode, Derrick and Kris apply their unique talents and investigatory skills as they re-examine original clues and chase down new ones to solve these cold cases.
Your Worst Nightmare – Season 4
Saturday, July 14 – 10 PM
From monsters hiding in the closet to the boogeyman lurking in nearby shadows, evil can interrupt even the sweetest of dreams. But what happens when a bad dream is actually a waking nightmare? Investigation Discovery's series, now in its fourth season, delivers true, spine-tingling crimes that take viewers on a ride of twists and turns, complete with jump out of their seats moments and chilling conclusions.
On the Case with Paula Zahn – Season 8
Sunday, July 15 – 10 PM
Investigation Discovery's signature news series, with award-winning journalist Paula Zahn, features in-depth interviews that go beyond the headlines in search of fascinating mysteries from within the US's justice system. Zahn's interviews stand out and draw out varying viewpoints from the people personally connected to tragedies that rocked their local communities and the investigations that attempted to piece together the truth.
Pandora's Box: Unleashing Evil – Season 2
Monday, July 16 – 9 PM
Most stories end with the crime, but sometimes the crime scene represents just the tip of the iceberg. Pandora's Box: Unleashing Evil uncovers gripping investigations that get more sordid as every piece of evidence is examined — from a murder scene that tipped police off to a polygamist secret society to a random house fire that revealed decades-old family secrets.
Investigation Discovery (Channel #53 or #260 in Quebec) is available individually in our UChoose store for only $2.95 per month, or as part of a pick-a-pack from as little as $1.50 per month.
VMedia TV – More Freeviews. More Fun.