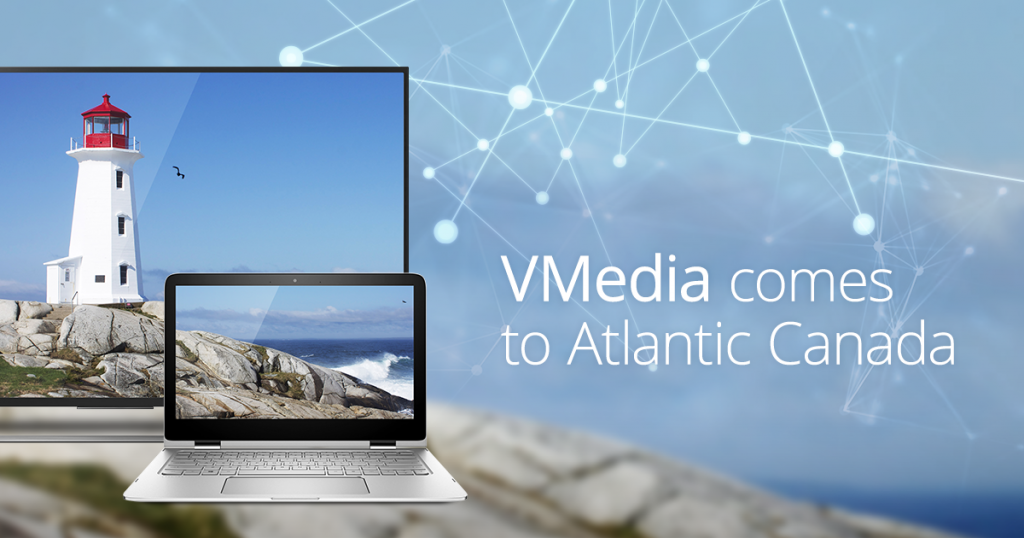 VMedia is excited to expand its service in Atlantic Canada to now include our innovative TV service.
ln April 2018, we announced our expansion to Atlantic Canada, providing unlimited internet, in addition to our VoIP Home Phone and Home Security services – in all major Atlantic cities. Now, consumers in Atlantic Canada have an alternative and a lower-priced TV option to the major incumbents.
Enjoy low cost, 'build your own' TV packages – choose from theme packs and a la carte channels from our UChoose channel catalogue. VMedia's TV packaging strategy has been customized to effectively serve all clients, in both English and French as well as a theme packs for multicultural channels. We offer over 160 channels that can be selected individually or in a 'pick a pack'. Build your own customized TV lineup and power all your favourite channels and a whole world of online content directly on your TV. Key features of VMedia TV include our innovative VBox, VCloud, PVR and Go Apps.
VBox
Our VBox is a set top box and a new home entertainment experience featuring one seamless interface for conventional TV, over the top content (Netflix, YouTube), video on demand, live TV, Cloud PVR, social media and a world of apps. The VBox also allows access to a web browser, so you can surf the internet from the comfort of your couch.

VCloud – our advanced "Scroll-back" TV
VMedia's innovative VCloud 'scroll-back' TV is included in all of our TV packages. VCloud allows you to scroll back up to seven days in the TV guide on your screen, select a show that you missed and watch on your screen. With VCloud TV, you get instant access to any show aired within the past seven days on 25 channels which includes all major Canadian and US networks (ex. CTV, CBC, Global, BBC, ABC and many more). No extra hardware is needed to enjoy VCloud. View the complete list of supported channels here.
PVR
With VMedia PVR, you can record a show, at any time, on any channel you are subscribed to and playback at your convenience. You can watch while recording or record while watching another channel. Again, no additional equipment is required – this feature is built into our VBox.
Access GO Apps
Your VMedia TV subscription also gets you unlimited access to hours of premium programming, both live and on demand through GO Apps. Watch all your favourite programming from your supported devices. View the complete list of GO app supported channels here.
VMedia's TV services require a subscription to VMedia high-speed internet with everyday low prices and no data caps. Best of all, VMedia does not require contracts to enable subscribers to benefit from these prices.
If you are not yet a subscriber of VMedia TV, sign up today and take advantage of our 2 months FREE TV offer. Get our most popular TV package, Premium Flex with over 60 of your favourite channels, free for your first two months. Your TV service gets you instant and unlimited access to all of our great features including VCloud and PVR. Never miss an episode again.
VMedia TV – More Content, More Enjoyment.