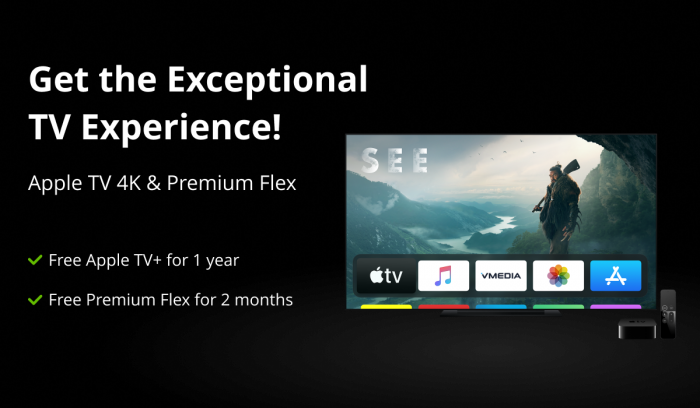 VMedia TV's service can now be watched on Apple's premium entertainment device, Apple TV 4K, the most powerful entertainment device for enjoying TV shows, movies, music, photos, games and apps on the biggest screen in the home.
Our new VMedia TV app delivers a sleek, user-friendly interface for live TV and on demand content, plus easy navigation and fast access to all your favourite shows. VMedia TV is available on iPhone, iPad as well as Apple TV 4K.
VMedia customers can benefit from a seamless zero sign-on experience from Apple, which further simplifies signing in and getting customers to the content they love with ease. With zero sign-on, Apple TV 4K will automatically install the VMedia TV app and sign them in — no need to enter a username and password.
The Apple TV 4K is available to purchase on our VMedia site https://www.vmedia.ca/en/tv/apple so be sure to take advantage of our special limited time offer. Purchase an Apple TV 4K and you get one year FREE of Apple TV+ to watch great hits from Apple Originals and much more*.
First time TV subscriber to VMedia? Sign up to Premium Flex, our most popular TV package and we will give you 2 months FREE when you purchase an Apple TV 4K!
Premium Flex offers the best set of top TV channels for the lowest price and comes in four variations; Classic, Sports, Family or Lifestyle so you can customize.
Apple TV 4K & Premium Flex – Get the big TV experience!
*Please note: The one year free Apple TV+ is available on a one time basis per Apple ID.