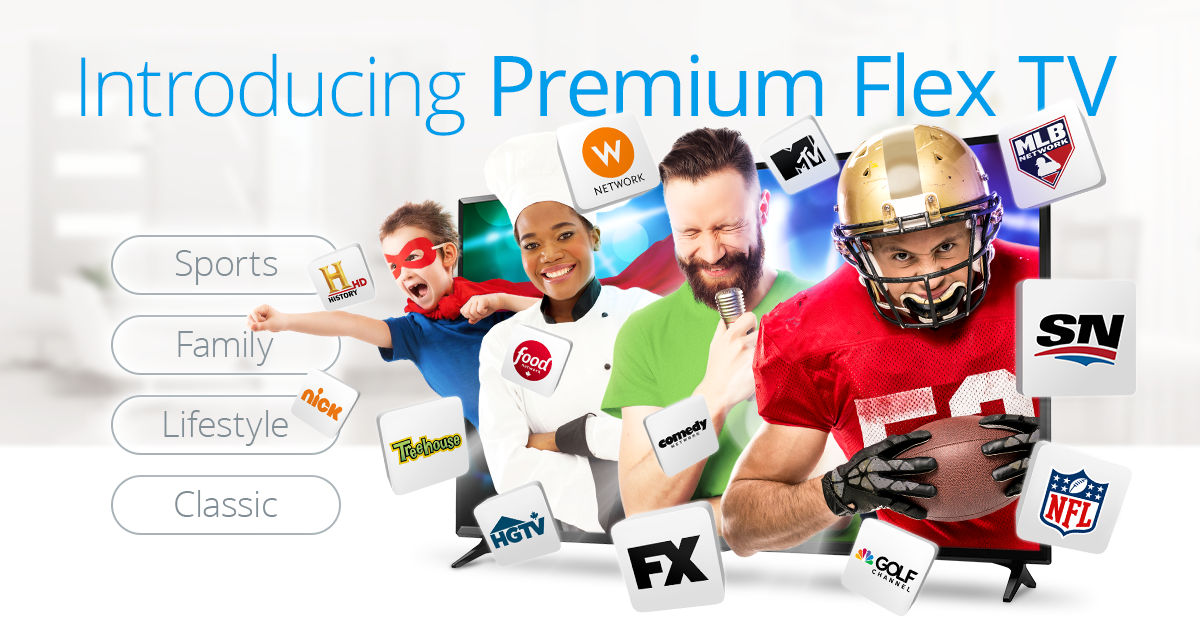 Want the best set of popular TV channels for the lowest price? Ready for the big TV experience?
VMedia is delighted to announce the launch of its new Premium Flex and Grand Premium TV packages – great new options in TV service along with VMedia's innovative TV features. More home entertainment enjoyment for you and everyone in your household.
With Premium Flex, we have taken our most popular TV package, Premium Basic, and made it even better, by allowing you to customize in one of four versions. Premium Flex starts with a terrific set of popular channels including TSN, Sportsnet, CNN, A&E, AMC, Discovery, Showcase, TLC, Space and Bravo, and then you complete the package by selecting one of four themes; Classic, Sports, Family or Lifestyle – each with ten additional channels in the genre. Basically all the channels your need for only $49.95/ month, which is up to 30% less than comparable packages. And we give you the first 2 months FREE.
Premium Flex Classic, which includes all the channels above, as well as Turner Classic Movies, BNN Bloomberg, MLB Network, HLN and Comedy, and now also features FX, home of great shows like The Americans, Fargo, Legion and American Crime Story.
Premium Flex Family features great additional content for kids and young adults, including Animal Planet, Treehouse, Teletoon, History and Disney XD.
Premium Flex Lifestyle includes the top channels in lifestyle programming, featuring W Network, Food Network, HGTV, Cosmo TV, Slice, Travel & Escape, and more.
Premium Flex Sport feeds the needs of any sports fan, with a package that includes additional channels such as Golf Channel, Big Ten Network, MLB Network, NFL Network, Leafs TV and Fight Network.
In addition to Premium Flex, VMedia introduces Grand Premium, assembled to compete with the largest packages offered in the market. Grand Premium features over 100 channels, including the 80 most watched English-language specialty channels available in Canada. At only $67.95/month, this is a breakthrough for consumers, who can now get all the channels they want for up to 30% less than comparable TV packages.
Enjoy VMedia TV with our unique VBox (a TV set top box and media player combined), a Roku device, or Roku-powered TV. Check out these great TV packages – the best set of the most popular channels at the lowest price.
Compare TV providers and save with VMedia. Sign up today!