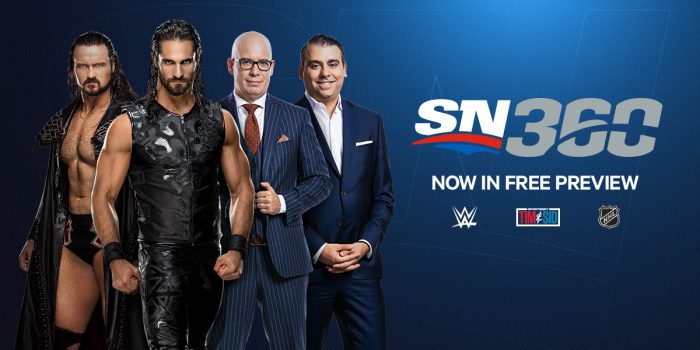 Attention Sports Fans! VMedia is now offering a FREE PREVIEW of Sportsnet 360 from now until July 31, 2020! Here's your chance to check out all the action in the NHL, MLB, NBA and more – and totally free! Sportsnet 360 can be found on channel #22 in your channel lineup in most provinces and on channel #29 in Quebec.
Sportsnet 360 is your complete guide to all the latest sports news, scores, standings as well as terrific video highlights of matches. Watch all the games and news you might have missed and enjoy shows like:
Blue Jays Xpress
The 30-minute show includes live post-game reaction from Manager John Gibbons, interviews from the field and the clubhouse, in-depth highlights and reports on games from around the AL East and MLB.
WWE
As the exclusive home for WWE in Canada, enjoy watching marquee shows such as Monday Night Raw and Friday Night SmackDown. The line-up also includes Vintage Collection, NXT, The Experience and Aftermath, a first of its kind, post-game show for Monday Night Raw.
CIS
Catch expanded coverage of CIS sports, headlined by the Vanier Cup and including the following marquee events: Football (Mitchell Bowl and Uteck Bowl), Men's and Women's Hockey Championships; Men's and Women's Basketball Championships.
Like what you see on our FREE preview? Then add Sportsnet 360 to your TV lineup with our Super Sports Pack, Sportsnet Plus, Sports Fan or Sports Combo theme packs starting at only $12.95/month. Or get Sportsnet 360 individually in our UChoose store for as little as $5.95/month.
You can also add Sportsnet 360 in our top of the line TV package, the Grand Premium, and enjoy the big TV experience. Only $70.95/month for the best set of popular channels at the best price.
For any of these options, there is no need to call in. Simply add them in your My Account and start watching!
VMedia TV – More Content. More Free Previews!