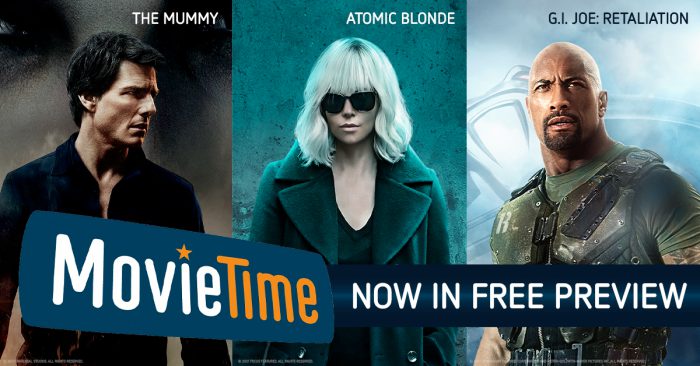 MovieTime is now on FREE PREVIEW to all our VMedia TV subscribers until February 28th.
MovieTime is the ultimate digital channel destination for big-ticket movies seven days a week. With over 250 movie titles each month and back-to-back movies on the weekend, MovieTime offers movie lovers unparalleled access to an extensive collection of favorite hits. From adventure-packed blockbusters to definitive movie moments, MovieTime presents a star-studded, jam-packed lineup that satisfies viewers' craving for hit movies.
Watch MovieTime on channel #86 on your channel line-up in all provinces except for Quebec where it is on channel #294.
Here is some top programming you won't want to miss.
Cheaper by the dozen 2
Tom Baker, a retired coach, takes his family on a vacation to relax and spend time with his children, who are all growing up. However, they are soon drawn into a battle against his old rival.
The Matrix
Thomas Anderson, a computer programmer, is led to fight an underground war against powerful computers who have constructed his entire reality with a system called the Matrix.
It
Seven helpless and bullied children are forced to face their worst nightmares when Pennywise, a shape-shifting clown, reappears. The clown, an ancient evil torments children before feeding on them.
MovieTime is available in our most popular TV package – Premium Flex with the Lifestyle Theme for $52.95/month. Add the Premium Flex package in your My Account for new TV subscribers and get 1 Month FREE!
You can also subscribe to MovieTime in our Movies theme pack for $5.95/month.
VMedia TV – More Content, Free Previews