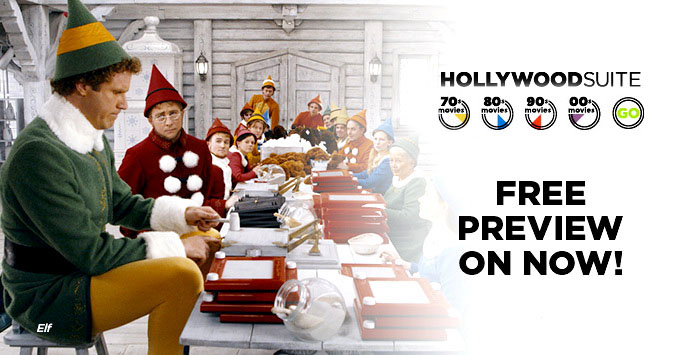 Enjoy the FREE PREVIEW on our Hollywood Suite package and its four HDTV movie channels, starting today and running to January 12. Hundreds of uncut and commercial-free movies to watch on channels 486-489 with family and friends over the holidays.
Reconnect with your favourite movies from the 70s, 80s, 90s or 2000s or discover a new one – there's always something to watch on Hollywood Suite.
Here's some movies you don't want to miss!
70s Movies
| HS80 – Channel 486
CATCH-22 (1970)
Dec 13 | 9:00pm – Director Mike Nichols' dark satire
OH, GOD! (1977)
Dec 18 | 9:00pm – Director Carl Reiner, starring George Burns
STAR TREK: THE MOTION PICTURE (1979)
Dec 27 | 9:00pm
80s Movies
| HS80 – Channel 487
Matt Dillon: Bad BoyDec 12 – DRUGSTORE COWBOY (1989)

9:00pm

and RUMBLEFISH (1983)

22:45pm

Trouble in the SkiesDec 19 – AIRPLANE! (1980)

9:00pm

and AIRPLANE II: THE SEQUEL (1982)

10:30pm

Rambo TrilogyDec 20 – FIRST BLOOD (1982)

9:00pm

, RAMBO: FIRST BLOOD PART II (1985)

10:35pm

and RAMBO III (1988)

12:15am
90s Movies
| HS90 – Channel 488
L.A. STORY (1991)
Dec 13 | 9:00pm – Starring and written by Steve Martin
Julia Roberts in Love
Dec 19 – MY BEST FRIEND'S WEDDING (1997)

9:00pm

and NOTTING HILL (1999)

10:45pm

Cruise Control
Dec 26 – DAYS OF THUNDER (1990)

7:10pm

, THE FIRM (1993)

9:00pm

, MISSION: IMPOSSIBLE (1996)

11:35pm

and A FEW GOOD MEN (1992)

1:30am
00s Movies
| HS00 – Channel 489
NO RESERVATIONS (2007)
Dec 11 | 9:00pm
Jennifer Aniston double bill
Dec 18 – RUMOR HAS IT… (2005)

9:00pm

and ROCK STAR (2001)

10:40pm

Terrence Howard Boxing Day Special
Dec 26 – CRASH (2004)

9:00pm

, HUSTLE & FLOW (2005)

10:55pm

and THE BRAVE ONE (2007)

12:25am