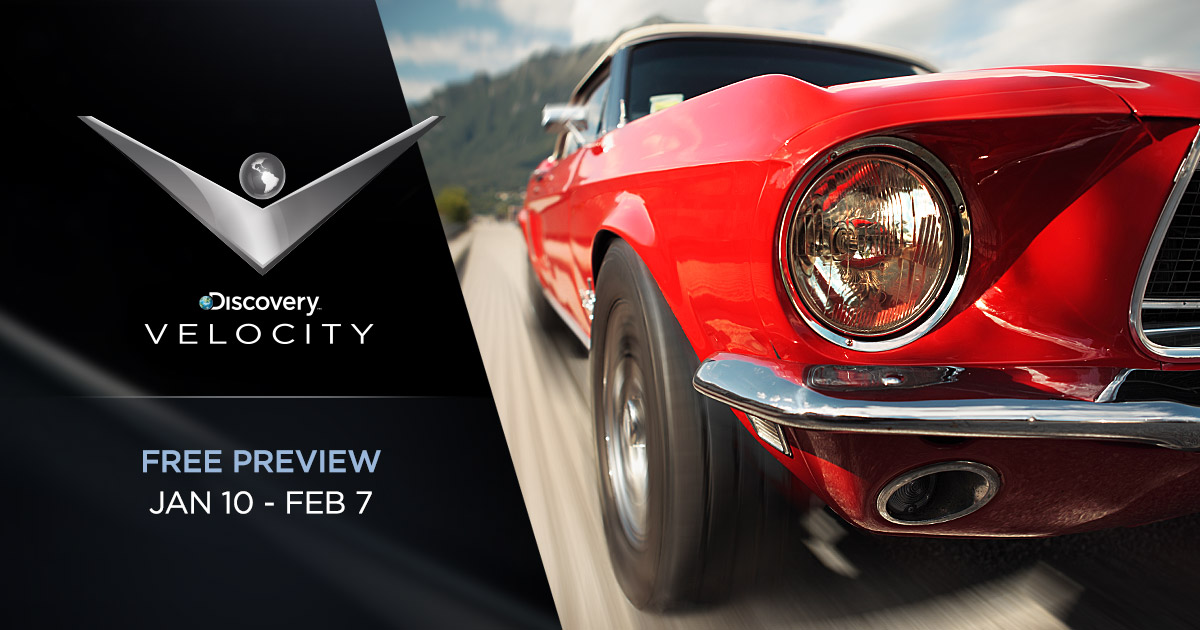 Fill up the gas tank, because it's time to hit the road – Discovery Velocity is on free preview. All VMedia TV subscribers will have free access to Discovery Velocity (Channel #92 and #365 in Quebec) until February 7, 2019.
New Series:
Road Kill
Ride along with HOT ROD's David Freiburger and Mike Finnegan as they continue their love/hate relationship with hot rods, street machines and other performance vehicles. In Roadkill, Freiburger and Finnegan hit the road in everything from a 1968 Ford Ranchero to a 1500 horsepower Camaro called the F-Bomb. Getting to every destination is an adventure.
Sticker Shock
This series answers the age-old question, "What's my car worth?" from dad's old pickup to souped up hot rods. Host Dennis Pittsenbarger and a team of expert appraisers uncover their value. From cars you've always wanted, to cars you've never heard of, professional appraisers investigate their history and condition to determine a price tag you won't see coming.
Returning Series:
Junkyard Empire
Andy Cohen, a jack of all trades with a keen eye for recognizing the potential value of automotive rubble and his father, Bobby, use their talents to manage a junkyard and custom car shop. At the custom car shop, once-ruined cars are brought back to life one panel and plug at a time, transforming the trash into treasure for high dollar customers. The Cohens know how to exploit every greasy part or burned up engine to keep the family empire thriving.
Chasing Classic Cars
From rock-and-roll icons, A-list movie stars, and the cars they love, to an astonishing sale of one of the world's rarest Ferraris, Chasing Classic Cars delivers in a big way. Car guru Wayne Carini scours the country for the rarest, most unusual vehicles around and he finds them in the most unlikely places.
Iron Resurrection S3
Cars are never truly dead in the eyes of Joe Martin and his team at Martin Bros Customs outside Austin, Texas. For years, they've knocked off the rust and resuscitated rides destined for the junkyard with their signature brand of cool. In season three of the hit series Iron Resurrection, the Martin Bros Customs team returns to breathe new life into new crop of lost causes
Specials:
Barrett-Jackson LIVE Auction, Scottsdale
January 15-20
Velocity shifts into a new gear as exceptional cars shine brighter than the desert stars during Barret-Jackson Live Auction from Scottsdale, Arizona. One of the biggest annual automotive events in America, this auction features thousands of bidders – discerning collectors, big dreamers, leading athletes and top celebrities – as they compete to take home one of the more than 1,600 outstanding vehicles scheduled to cross the auction block.
Discovery Velocity is available in our popular Premium Flex and Grand Premium TV packages for only $28.00/month or $46.00/month ($49.95/month and $67.95 after 6 months) respectively. You can also add Discovery Velocity to your TV lineup with our SportsMan and Sports Combo theme packs or get it for as low as $1.50/month in our UChoose store. Sign up today!
VMedia TV – More Free Previews. More Fun.