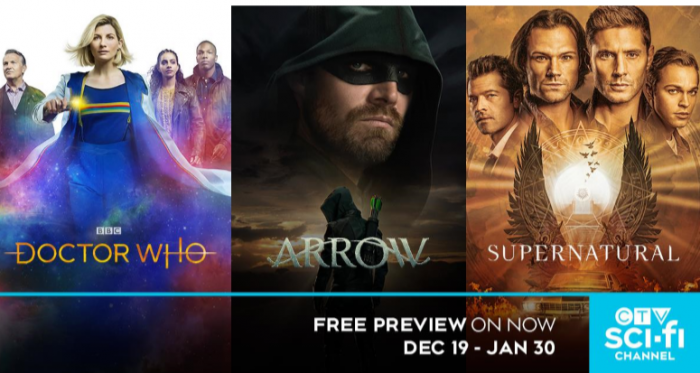 We are pleased to offer you a Free Preview of CTV Sci-Fi Channel from December 19, 2019 to January 30, 2020.
The CTV Sci-Fi Channel Free Preview period will have an incredible line-up of new and returning series to keep you entertained all month long! Viewers will enter worlds with no limits, where fans connect to the heroes and the galaxies they dare to image.
Here are some shows you won't want to miss.
New Series:
Star Trek: Picard – Premieres Thursday January 23rd, 2020
Star Trek: Picard features Sir Patrick Stewart reprising his iconic role as Jean-Luc Picard, which he played for seven seasons on Star Trek: The Next Generation. The new series will follow this iconic character into the next chapter of his life.
Returning Series:
Doctor Who – Season 12 Premieres Wednesday January 1st, 2020
Jodie Whittaker's globally acclaimed Thirteenth Doctor returns for her sophomore season — a brand new set of action-packed epic adventures spanning space and time. Accompanied by her three best friends, Ryan, Yaz and Graham, the Thirteenth Doctor is set to face her toughest challenges yet. Featuring terrifying monsters old and new, figures from Earth's history, and an eclectic set of guest stars, this series will delve deeper into the hearts of the Thirteenth Doctor. Cinematic visuals, compelling characters, and a host of alien threats all collide in new episodes shot through with Doctor Who's trademark warmth, humor and heart. The return of Jodie Whittaker's Doctor and friends is set to thrill, scare and delight audiences around the world.
Castle Rock – Wednesday 9 PM
Inspired by the Stephen King universe, CASTLE ROCK is an original story that intertwines characters and themes from King's best-loved works, weaving an epic saga of darkness and light, played out on a few square miles of the fictional Maine town.
Supernatural – Thursday 8 PM
The epic journey of the Winchester brothers comes to a close as SUPERNATURAL enters its final season. Sam and Dean, along with the angel Castiel have battled gods, demons, mythical creatures and monsters, in a seemingly unending quest to save the world. But in the final battle of the show's 14th season, they face off against God Himself.
Arrow – Tuesday 9 PM
Following the untimely arrival of godlike being The Monitor, Oliver Queen left his home, his family, and his team behind to take on his most challenging battle yet, knowing the cost may be his life. However, this time it is not just his city he is seeking to protect – it's the entire multiverse: everything that ever was or ever will be. In ARROW's eighth and final season, Oliver's quest will send him on a journey where he is forced to look back at his years as the Green Arrow and confront the reality of the ultimate question: what is the true cost of being a hero?
Enjoy CTV Sci-Fi Channel in our most popular TV package, the Premium Flex for $49.95/month (and 2 Months Free!) or get CTV Sci-Fi Channel in the Grand Premium for $67.95/month (1 Month Free!). You can also find CTV Sci-Fi Channel in our Entertainment theme pack for only $8.95/month, or add CTV Sci-Fi Channel to your channel lineup for $5.95/month in our UChoose store.
VMedia – More Content. More Enjoyment.