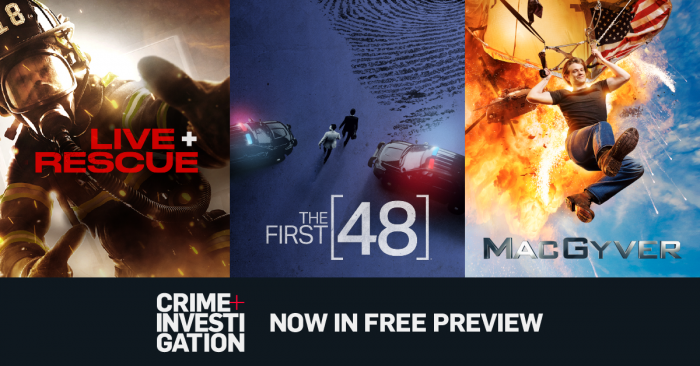 Crime + Investigation is now on FREE PREVIEW, for your TV viewing pleasure, running until January 31st. Here's your chance to watch the best in crime stories.
Crime + Investigation is dedicated to investigating the truth and life's mysteries through true crime stories and dramatic series. Crime + Investigation takes viewers on an emotional and gripping journey into the world of criminal investigation.
Watch Crime + Investigation on channel #276 in your channel line-up in all provinces with the exception of Quebec where it is on channel #249.
Here are some brand new shows and top programing to check out:
Live Rescue – Starting January 10th / Sundays 7PM EST
"Live Rescue" follows EMTs and fire departments from across the country as they bravely put their lives on the line responding to emergency rescue calls.
The First 48 – Starting January 10th / Sundays 8PM EST
The First 48 takes viewers behind the scenes of real-life investigations as it follows homicide detectives in the critical first 48 hours of murder investigations, giving viewers unprecedented access to crime scenes, interrogations and forensic processing.
Twisted Faith
WEEKEND EVENT – January 23rd – 24th
Twisted Faith is a special two-day event dedicated to exploring and understanding extreme human behavior, and includes Cults and Extreme Beliefs, a marathon of Leah Remini: Scientology and the Aftermath, and the documentary film No Greater Law.
Fan-Favourite Crime Dramas:
Hawaii Five-O – Weekdays 8PM EST
A contemporary take on the classic series about an elite federalized task force whose mission is to wipe out the crime that washes up on the islands' sun-drenched beaches.
MacGyver – Weekdays 9PM EST
Young Angus "Mac" MacGyver works for a clandestine organization within the U.S. government, relying on his unconventional problem-solving skills to save lives.
Enjoy Crime + Investigation in our most popular TV package – Grand Premium for $70.95/month. Add the Grand Premium TV package in your My Account for new TV subscribers and get 1 Month FREE!
You can also add Crime + Investigation to your lineup with our Entertainment theme pack for only $12.95/month, or get this popular channel 'a la carte' for $2.95/month in UChoose with 2 Months FREE!
VMedia TV – More Content, Free Previews