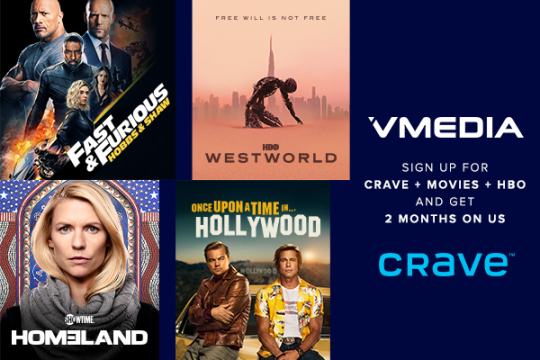 VMedia is pleased to offer 2 months FREE on two of our most popular theme packs; Crave + Movies + HBO and Crave + Movies + HBO + Starz!
Here is your chance to enjoy the best of premium quality TV entertainment with hit shows like Homeland and Westworld and top- rated movies like Fast & Furious and Once Upon a Time…In Hollywood and so much more. And all uncut and commercial – free. Plus binge away on a large library of titles in On Demand to watch anytime, or on the run with the Crave app.
Here are some more details about these shows you won't want to miss:
Homeland
While in Iraq, Carrie Mathison, a CIA operations officer, had been warned by an asset that an American POW had been turned by al-Qaeda. After an unauthorized operation in Iraq, Carrie is put on probation and reassigned.
Westworld
Westworld isn't your typical amusement park. Intended for rich vacationers, the futuristic park – which is looked after by robotic "hosts" – allows its visitors to live out their fantasies through artificial consciousness.
Fast & Furious
In this action-packed feature, Hobbs & Shaw have traded smack talk and body blows for years. But when a cyber-genetically enhanced anarchist gains control of an insidious bio-threat, they must partner up and bring down the only guy who might be tougher than themselves.
Once Upon A Time…In Hollywood
This comedy-drama film written and directed by Quentin Tarantino, tells the story of a faded television actor and his stunt double who strive to achieve fame and success in the film industry during the final years of Hollywood's Golden Age.
Don't miss out on this FREE Offer! Crave + Movies + HBO is regularly $19.95/month, and Crave + Movies + HBO + Starz is regularly $21.95/month. And both comes with 1000's of hours of on demand content to enjoy as well as the on-the-go Crave App.
VMedia TV – More Enjoyment, More FREE Content!