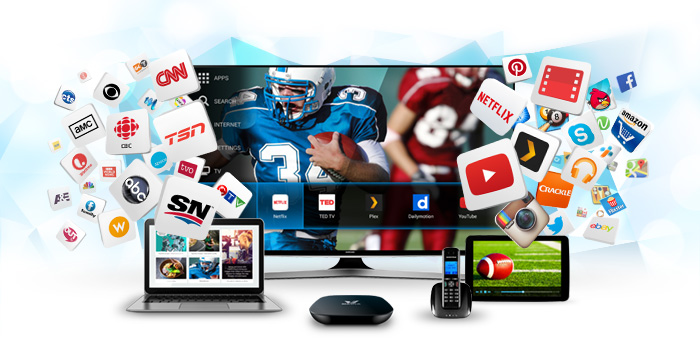 The bustling and thriving city of Calgary is situated on the famous Bow and Elbow Rivers amidst stunning scenery and is a city rich in Industrial, manufacturing, commercial and retail businesses including Oil and Gas production, chemicals and a huge amount of offices home to many companies, a busy retail shopping centre with many diverse restaurants and shops to enjoy, The Calgary Tower and many parks including the famous Calgary Zoo, outdoor recreational activities, superb arts and cultural activities and festivals including the famous annual rodeo – The Calgary Stampede galleries and museums to visit with a calendar of all year events to enjoy and will soon be home to VMedia – the highly popular and successful Multimedia offering High Speed Internet, IPTV and Phone services to homes across Canada since it's foundation in Ontario in 2013 with millions of happy customers enjoying the best home entertainment and communication and has recently added it's superb wireless Home Security system – all at amazingly low prices that has made VMedia so popular in Canada today. We are excited to operate in Alberta and the Calgary area offering our customers the best choices in TV entertainment, a truly modern and reliable High Speed Internet and Phone service and introducing our new wireless Home Security Package – all at amazingly low prices to suit every household in Calgary and beyond. VMedia use the latest innovative Technology and our highly skilled staff work hard every day to bring the best experiences to all our customers  – all at really low prices!
Internet
Internet access is a necessity economically and socially in this busy Digital age we all live in and VMedia will soon operate its superb and reliable High Speed internet in the province of Alberta and Calgary offering a wide variety of Internet Plans suiting every location and budget with the lowest prices imaginable!
VMedia are operating it's High Speed Internet since 2013 empowering our customers to more connected lives with fast speeds, no limits, no contracts and low prices that makes VMedia so popular across Canada today.
In Alberta we offer Cable, DSl or FTTN options depending on location and our friendly Sales Team will assess your requirements and match it with a price that suits you – our promise!
VMedia are famous for their awesome customer care and our Technical Support Team are available seven days a week to keep our valued customers connected as part of our ongoing commitment to excellence – only from VMedia!
Click here for all Internet plans and prices.
IPTV
IPTV has changed the way Television is viewed in Canada and all over the world, offering much more than the traditional Satellite and Cable TV bringing a new world of viewing entertainment, communication and so much more as IPTV from VMedia uses the mighty Internet with superior and futuristic Technology, crisp sound and vision and endless enjoyment at amazingly low prices!
VMedia are excited to locate in Calgary and offer our new customers a top quality IPTV service with superb choices every day as we will stream only the best and latest top Canadian, U.S.  and international channels and shows, news, sport, films, music, kids, games and so much more – all directly to your home via our famous IPTV box called the VBox that also acts as a browser offering immediate connection to the Web, Facebook, Twitter, Skype, You Tube, Twitter, Netflix, Plex, XBMC,  Picasa, Instagram, Picasa and 100's of apps for all the family to enjoy!
VCloud are among the many capabilities of the VBox, allowing recording and a seven day "scroll back" option so you never miss your favourite programmes and PVR to rewind, pause, stop or fast forward recorded programmes – allowing extra flexibility and enjoyment – at no extra cost!
VMedia offer superb choices with our famous Packages offering endless entertainment for everyone at amazingly low prices starting with TheSkinny – offering 28 channels for only $24.95/month, The Basic – offering 35 channels for only $35.95/month and The Premium basic offering 60 channels for only $49.95/month – incredible value only from VMedia!
Our excellent value continues at VMedia with our vast range of Theme Packs at really low prices including Family Pack, Kids Pack, Hollywood Suite, Sports net, Super News, Multinational channels, lifestyle, Style, Knowledge and many more!
With UChoose from VMedia you can pick and choose from over 160 channels and create your own unique viewing from prices as low as $2.95 per channel – the more you buy – the less you pay!
Click here for list of available channels, packages, Theme Packs and prices.
Home Security – VMedia Protect
In 2018 having a quality home security monitoring system is a must and VMedia is excited to offer the people of Calgary and the surrounding communities the highest standard of Technical excellence in protecting your home and assets with our new Home Security System called VMedia Protect that gives you peace of mind 24/7. VMedia will protect your home, condo or apartment with 24/7, 365 days a year professional monitoring by our 5 diamond standard ULC certified monitoring station (the highest certification in the Industry). Our unique wireless security system has an easily installed control panel called the Security Hub that is so easy to use and includes a free app so you can arm, disarm and check the status of your system remotely from your phone or tablet and receive alerts 'on the go' giving maximum protection to what matters – your home. The Security Hub needs to be connected to the Internet and the sensors connect wirelessly to the hub – just plug in the Security Hub, stick up the sensors and call us to activate – easy as that!
VMEDIA PROTECT KIT
Our standard Protect Kit contains the most important elements of your Home Security built to the highest standards and includes Security Hub x 1, Door /Window sensors x 2, PIR motion sensor x 1, Alarm monitoring certificate x 1 and window decals x 4. Extra sensors, accessories and window decals are also available if required. The cost of the Kit is only $229.95 representing excellent value for money – only from VMedia!
PLANS
Keeping your home and family protected with our Monitored Security System Plans is our priority and we offer 2 great plans called PROTECT and PROTECT PLUS – both at really affordable prices and offering complete peace of mind.
With PROTECT we offer your property 24/7, 365 days a year of professional monitoring. You can also arm / disarm your Security system remotely and get notified of any changes with Text, email or push notifications. The system works over Internet connection which means that there is no need to have a standard home phone connection. This provides additional security as it removes the chances of somebody cutting the phone lines. The PROTECT Plan is priced at $12.95 / month – and represents excellent value for money!
With PROTECT PLUS we go further as we offer the same excellent monitoring 24/7 from our Monitoring Station 365 days a year, and you can also remotely arm/disarm your Security Hub if required. PROTECT PLUS will go that bit extra because we offer the Text, email and push notifications by Cellular and the Internet communication all for only $16.95/month.
The safety and security of your property is guaranteed with PROTECT and PROTECT PLUS Plans only from VMedia – putting our customer first – always
OPTIONAL ADD ON SERVICE FROM VMEDIA:
1 – PRIVATE SECURITY RESPONSE
If your alarm is triggered, VMedia will first dispatch a private Security Response team member to your home to inspect and investigate any sign of a break- in and will then inform the local Police as required. This avoids wasting valuable police time if it is a false alarm, subsequently incurring false alarm charges, which can be costly – ranging from $75 – to $250 depending on your locality. The Private Security Response from VMedia is only $4.95 /month.
2 – ADD ON ACCESSORIES
Extra door and window sensors, motion sensors, key fob, window warning stickers and Pin Pad – can be ordered at any point during the service.
GSM – VMedia offer a built in cellular GSM chip – ideal for a secondary level of protection as well as rural homes in the Calgary area without internet.
HOUSE INSURANCE
VMedia will include an Insurance Certificate with the Alarm Kit that will allow customers eligible for 10-15 % discount on your Home Insurance – making even more savings for you!
VMedia promise to protect your home 24/7, keeping you safe and secure at seriously low prices and unlike other companies, we offer our services with absolutely no contracts and a 30 day money back guarantee. Call our Sales Team today for more information!
Phone
VMedia phone was launched in 2013 to meet the growing need for a modern, reliable and cost effective phone service to suit the needs of Canadians and keeping everyone connected so we are excited to locate in Alberta and the Calgary area very soon offering great phone plans with the lowest call rates for Canada and worldwide, all with no contracts!
Check out our amazing Plans:
With Home Phone you get low monthly bills, no contracts, 16 superb phone features and the first month free
With Unlimited Canada and USA, you get unlimited calling all over Canada and USA, and reduced calls elsewhere for only $19.95/month.
With Unlimited World you get unlimited calls to over 60 countries worldwide and reduced calls elsewhere for only $26.95/month from landlines and mobile!
Fantastic prices and options you will not get anywhere in Canada only with VMedia!
Click here for all phone plans, phone features and all prices.
Calgary will soon celebrate the arrival of VMedia who possess the powerful combination of modern Technology, with the most highly skilled and dedicated staff offering home entertainment, High Speed Internet, IPTV, Phone and our new and popular Home Security system to improve and enhance the lives of everyone in Calgary and the surrounding communities. We promise our awesome customer care and our low prices that have made VMedia the number one choice across Canada since 2013. Why not call our Sales Team today at 1-844-872-8269 for further information including all current deals, packages, bundles, our new home security system and current special offers and all prices or visit www.vmedia.ca
VMedia – keeping you connected, entertained and safe!