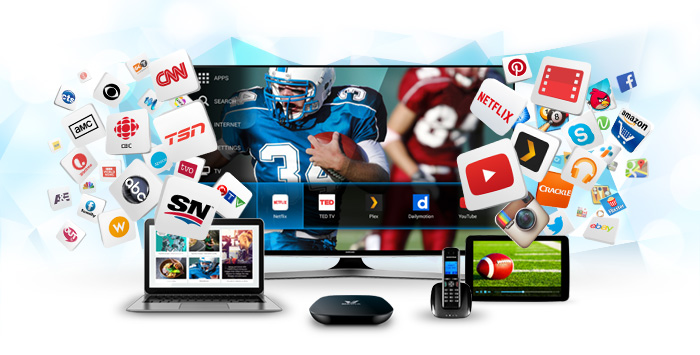 Saskatoon is the largest city in the Canadian Province of Saskatchewan, a vibrant city and area rich in agriculture, oil and gas, potash, gold and diamond and a thriving biotechnology and Technology hub that offers outstanding economic and employment opportunities along with both outdoor adventure and sophisticated historical and cultural amenities in a city with endless tourist attractions, shopping, entertainment, art galleries, museums, shopping making it a truly outstanding place to visit, work or live in.
If you are looking for a Multimedia Company that provides the best Internet, IPTV and Phone services in Canada, you have found it – VMedia! We are a Toronto based company operating successfully since 2013 in the Ontario region and as part of our National expansion programme, we plan to operate an Internet, IPTV and Phone service in Saskatoon and the surrounding area bringing a fresh, modern and reliable Internet, IPTV and Phone that will connect and provide the most modern communication, information and entertainment service in Canada in today's busy world of Technology and connectivity. A reliable Internet, IPTV and Phone service is an essential part of business, work and home life every day and VMedia possess the capability, technology and connectivity to bring the best services to our customers. Every day thousands of satisfied customers use our Phone, Internet and IPTV to stay connected, informed and educated and entertained at the lowest prices imaginable today. VMedia have managed to keep prices down while still offering a really excellent service with a variety of plans to suit all lifestyles and budgets and every day we are getting new customers who are tired of high prices and bad services so they join VMedia and everyone wins! 2017 will defiantly be an exciting year for Saskatoon as VMedia brings new Multimedia services at the lowest prices in Canada, putting you the customer first – always.
Internet
The internet plays a prominent and important role in all aspects of our lives every day across Canada and the busy world we live in. The Internet carries an extensive amount of information, entertainment, education and communication and enables us to work and play 24 hours a day, instantly. The Internet has improved the way we live and communicate all across the world and in Canada VMedia is proving itself as a success story in the provision of a superior, reliable Internet with no limits, no contracts, no small print and the lowest Internet plans to suit every budget, usage and lifestyle. VMedia employs only the best Technical Staff who continue to develop, upgrade and improve network and are an integral part of our success to date. Having a reliable Internet in Saskatchewan and the Saskatoon area brings enormous social and economic benefits to the locality, and VMedia will provide the best variety of Internet plans giving our customers great choices and really low prices to match each plan. Our current plans available in Saskatchewan are DSL or Cable and our Sales Team will advise and assess what is suitable for your location and needs, then offer the lowest price possible to suit your budget. Our promise is to keep you connected with the best and our Technical Support Team are available seven days a week should any issues or problems occur – that's great service – only from VMedia!
Click here to see all our Internet plans and prices.
IPTV
IPTV has changed the way we view Television all over the world and offers much more than the traditional Satellite and Cable, bringing a world of superior Technology with crisp and clear sound and vision, cool features and endless entertainment possibilities making IPTV the best choice in Canada today. VMedia are very happy to announce their arrival in Saskatoon and the surrounding area bringing a new and superb IPTV with new channels from all over Canada, The US and Multinational channels, news, sport, music, kids, films and games at really low prices beating all our competitors in choice, flexibility and price.
IPTV is streamed via the internet through our set top box called The VBox – bringing hundreds of new channels, and as the VBox also acts as a browser you get instant access to Facebook, Twitter, Skype, YouTube, Netflix, XBMC, Plex, Instagram, Picasa and 100's of apps for all ages and interests!
VCloud and PVR are among the many functions of the VBox allowing recording and a seven day "scroll – back" option so you never miss your favourite programmes and PVR to record, rewind, pause, stop or fast forward a recorded programme – giving even more flexibility and adding to your enjoyment – only from VMedia!
VMedia offer amazing Packages and Theme Packs at really low prices for you starting with our best-seller – "TheSkinny" offering 30+ channels for an amazing $17.95/month.
Other Packages include "The Basic" – offering 35+ channels for only $29.95/month and "The Premium Basic" – offering 60+ channels for only $44.95/month representing fantastic value – only from VMedia!
Our Theme Packs offer a huge variety of choice to suit all ages and interests including Family Pack, Kids Pack, Hollywood Suite, News and Sports channels, Lifestyle, Style, Knowledge and an excellent choice of Multinational channels – the list is endless!
UChoose from VMedia allows you to pick and choose your own preferred channels and create your own personal viewing experience and with prices starting at $1.50 per channel from over 170 standalones, it's truly amazing value – only from VMedia!
Our Sales team will be happy to assist and advise what is best for you, why not call them today?
Phone
The phone is one of the most successful inventions of modern times connecting people all over the world every day. A phone is a necessity for communication and a vital part of every household all over Canada putting people in touch with loved ones in every corner of the country and worldwide. VMedia provide a modern and reliable phone service with unbelievably low call rates and great prices. Canada has many Phone Companies offering numerous offers and deals but VMedia still ranks among the best value Companies who give the lowest call rates to its customers, along with awesome Customer Care always.
With our unbelievable Phone plans, VMedia offers excellent prices to keep everyone talking –
With Home Phone you get low monthly rates, no contracts and the first month free.
With Unlimited Canada you get unlimited calling all across Canada and reduced calls elsewhere – all for only $14.95/month.
With Unlimited World you get unlimited calling to over 60 countries worldwide and reduced calls elsewhere – all for only $24.95/month.
These plans represent the outstanding value you only get from VMedia so why not call our friendly Sales Team today at 1-844-872-8269 and get the best and lowest rates in Canada today!
VMedia is looking forward to locating in Saskatoon and bringing you the best IPTV, Internet and Phone service backed up by our amazing Technical Support Team available seven days a week to ensure you get the highest quality service at all times. We promise to keep our prices low and our standards high with superb choices and flexibility that makes VMedia what it is today. Call our Sales Team today at 1-844-872-8269 or visit www.vmedia.ca and see all our amazing deals, plans, bundles and current special offers and the lowest prices in Canada today!
See you soon in Saskatoon!