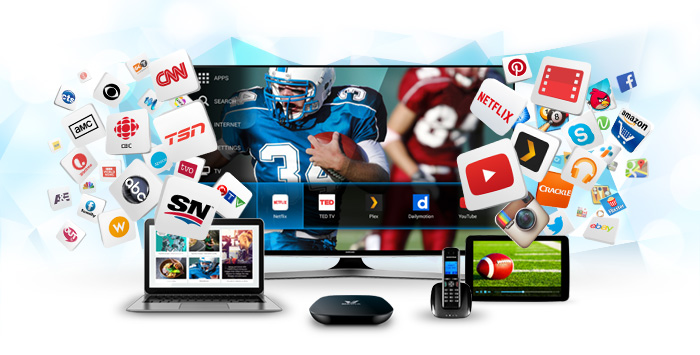 Martinsville is a growing and developing city situated in a picturesque area in Saskatchewan with many lakes, canals, creeks, parks and trails offering year round outdoor activities and adventures and a vibrant community spirit making it an ideal place to visit or live in. Martensville will soon be home to VMedia – the famous and innovative Multimedia Company at the heart of High Speed Internet, IPTV and Phone services in Canada offering superb entertainment and communication to its customers since its foundation in 2013. VMedia is locating to Saskatchewan as part of its National Expansion Plan due to its phenomenal success in the Ontario Region and are now famous for their really low prices and awesome Customer Care. VMedia has invested in the most modern Technology and highly skilled Staff to bring its customers a superior quality Internet, IPTV and Phone service that offers choice and flexibility along with the best and lowest prices anywhere in Canada today.
Internet
In a busy world that is embracing the Digital Age, having a reliable Internet is a must for any town, city or rural community and essential for work, study and play every day throughout Canada and worldwide today. VMedia have been successfully operating its High Speed Internet service since 2013 in the Ontario region and is now happy to announce its arrival in Saskatchewan and the Martensville area very soon, offering fast speeds, no limits and no contracts with amazing plans and low prices to suit every budget. We have thousands of satisfied customers impressed with our reliable Internet service backed up by our highly skilled Technical Team who continuously upgrade and improve the network, while our Technical Support Team are available seven days a week to keep you connected, informed and entertained – exceptional service only from VMedia!
At VMedia we offer the best plans to suit your needs, budget and location and in Saskatchewan we currently offer Cable Internet and our friendly Sales Team will advise and assess what plan suits your location then offer the best plan and price for you. We promise our prices will not be beaten anywhere!
Click here for all plans and prices.
IPTV
Since the arrival of IPTV we have been set free to enjoy a modern entertainment world of choices and endless viewing experiences being streamed to our homes via the Internet, replacing the more traditional Satellite and Cable TV. IPTV has become the latest popular choice in Canada and all over the world thanks to the increased availability of the internet and VMedia are one of the most popular IPTV companies in Canada with its futuristic Technology, reliable network and highly skilled Technical Staff to guarantee excellent picture and sound, cool features and a new Television viewing experience with great channels, shows and endless choices and flexibility, along with really low prices always.
With VMedia, IPTV is streamed via the Internet through an IPTV box called The VBox, bringing a huge amount of top Canadian, US and Multinational channels and shows, news, sports, music, films, kids, games and much more. The VBox also acts as browser giving instant access to The Web, Facebook, Twitter, Skype, YouTube, Netflix, Plex, XBMC, Instagram, Picasa and 100's of apps for all ages and interests.
VCloud and PVR are among the many functions of the VBox allowing recording and a seven day "scroll back"option so you never miss your favourite programmes and PVR to rewind, pause, stop or fast forward a recorded programme allowing extra flexibility and enjoyment – only from VMedia!
Our Packages and Theme Packs continue to be very popular and the people of Martinsville will soon enjoy a wide variety of entertainment options at amazingly low prices only available at VMedia starting with "TheSkinny" – offering 18+ channels for only $17.95/month – the best value Package in Canada today. Other Packages include "The Basic" – offering 40+ channels for only $29.95/month and "The Premium Basic" – offering 60+ channels for only $44.95/month.
The great value continues with our selection of Theme Packs including Family Pack, Kids Pack, Hollywood Suite, Supernews, SportsMan, Sports Fan, and Multinational, Style, Living, Knowledge and many more.
With Uchoose from VMedia you can pick and choose from over 170 standalones and create your own personal viewing experience at prices from as low as $1.50 per channel your enjoyment just gets better and better!
VMedia promise the people of Martensville a quality IPTV service they can trust, with amazingly low prices, choices and flexibility and the assistance of our Technical Support Team seven days a week – that's awesome Customer Care – only from VMedia!
Click here to see all channels, Packages, Theme Packs and prices.
Phone
The phone remains one of the most popular and useful inventions of modern times and is in essential part of daily life all over Canada and worldwide in every home, business and economy.
VMedia began operating its Phone service in 2013 in Ontario and is among the most innovative and reliable Phone Providers in Canada with its robust and reliable network, superior Technology and really low call rates beating all its competitors and other Phone suppliers in this highly competitive Phone Market today.
VMedia offer a superb range of plans and low call rates with no contracts and no small print – just value for money always.
The people of Martensville will be delighted with a reliable Phone service made possible by our great Staff ensuring you get the most from VMedia – always.
With Home Phone you get low monthly rates, no contracts and the first month free.
With Unlimited Canada you get unlimited calling all over Canada and reduced calls elsewhere for only $14.95/month.
With Unlimited World you get unlimited calling to over 60 countries worldwide and reduced calls elsewhere for only $24.95/month.
This represents the amazing value you get from VMedia!
Click here for all Phone plans, Phone features and all prices.
We are excited to locate in Martensville real soon and bring value, choice, flexibility and a modern reliable Internet, IPTV and Phone service to people who deserve the best – that's what you get when you join VMedia.
Why not call our Sales Team today at 1-844-872-8269 or visit www.vmedia.ca and view all our packages, deals, bundles, prices and current special offers only available at VMedia.
See you soon in Martensville!