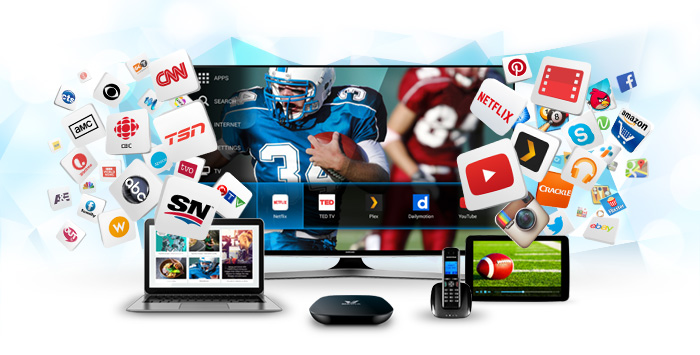 Chestermere is a city that surrounds Chestermere Lake situated in Rocky View County Alberta in an area renowned for its scenic beauty and endless opportunities for outdoor activities including fishing, water-skiing, biking around the many parks and trails or shopping and eating out in the busy city centre, Chestermere is an ideal place to visit, work or live. There is exciting news for the population and communities living around Chestemere – VMedia the highly successful Multimedia Company will soon be locating its High Speed Internet, IPTV and Phone services to Alberta and the Chestermere area bringing a whole new world of entertainment and communication with modern Technology and really low prices for its services. VMedia is based in Toronto Ontario since 2013 and has achieved outstanding success with its Internet, IPTV and Phone services offering excellent TV, Internet and Phone services with unreal prices to suit all budgets and gaining thousands of new satisfied customers who enjoy the benefits of a reliable Multimedia Company. VMedia has decided to develop its Company and expand to Alberta and eventually all over Canada in the future going forward. Our vision is to lead the Market in Canada with our services and prices and our dedicated staff will work as a team to achieve this. VMedia is excited to locate services in this beautiful area of Alberta and bring its great services and exceptional prices to the people of Chestermere and the surrounding community.
Internet
A fast and reliable Internet opens up a lot of possibilities for residents, visitors and the business community in any city, and Chestermere will benefit socially and economically from a dependable connection, opening up a new world of information, entertainment and enjoyment for its industrial, commercial and residential communities in 2016 and beyond. VMedia have excelled in the area of Internet Technology and has successfully provided the population of Ontario and other areas with a modern, reliable Internet with really fast speeds since 2013 and will be in Chestermere very soon. Our Internet has fast speeds with no limits, no contracts and VMedia has a range of plans to suit everyone's needs. DSL or Cable? – Our Sales Team will assist and advise what Internet plan suits your location and daily requirements and then offer the best price. Every day VMedia gets hundreds of new customers impressed with our fast speed Internet with really low price plans.
Click here to see all internet plans and prices from VMedia.
IPTV
The IPTV Market in Canada and around the world is undergoing a revolution in pricing, delivery and content options today and VMedia has emerged as a highly innovative Company that provides a high quality IPTV service with endless choices, great flexibility and really low prices, making it a popular choice with thousands of satisfied customers. IPTV is seen as the new alternative to the traditional Satellite and Cable TV, combining the mighty Internet with picture perfect sound and vision, cool features and amazing Technology to bring you the best IPTV entertainment and viewing experience to your home. IPTV is streamed via the Internet through an IPTV box called The VBox bringing a huge amount of Canadian, US and Multinational channels, news, sport, music, films, kids, games and much more. The VBox acts as a browser giving instant access to Facebook, Twitter, Skype, YouTube, Netflix, Plex, XBMC, Instagram, Picasa and 100's of apps bringing  superb information, education, entertainment and fun to your home.
VCloud and PVR are also functions of the VBox, allowing recording and a seven day "scroll back" option so you never miss your favourite programmes and PVR to record, rewind, pause, stop and fast forward any recorded programme giving extra flexibility and choice – all from VMedia!
At VMedia our packages and Theme Packs are the best value in Canada today, starting with "TheSkinnny" – offering 30+ channels for only $17.95/month – this is the cheapest package around!
Other Packages include "The Basic" – offering 40+ channels for only $29.95/month, and "The Premium Basic" offering 60+ channels for only $44.95/month.
Theme Packs from VMedia offer endless choice, flexibility and great value for money, these include Family Pack, Kids Pack, Hollywood Suite, SuperNews, SportsMan, SportsFan, Lifestyle, Style, knowledge and many more.
VMedia have just launched 2 new and exciting Theme Packs – TSN Plus and SportsnetPlus.
TSN Plus: get the complete TSN group – TSN 1 to TSN 5, plus MLB Network  and The Golf Channel – all for $7.95/month.
Sportsnet Plus: Super sports package – Sportsnet Ontario, East, West, Pacific, SportsnetOne and MLB Network – all for $9.95/month.
UChoose from VMedia gives the opportunity to invent your own personal viewing experience by letting you pick and choose from over 160 standalones and creating your personal entertainment Package – at prices starting from only $1.50 per channel!
Click here to see all channels, packages, Theme Packs and all prices
Or call our Sales Team today.
Phone
A reliable Phone service is vital for the life-blood of any community and an essential part of every day life in Canada and across the world, keeping everyone connected with their family and friends, in the business and commercial sector and in our whole economy. Phone Companies have flourished in recent years and VMedia has emerged as a favourite in the Ontario Region since 2013, thanks to their really cheap Phone plans and modern Technology, and reliable network. VMedia has a vision to be the leader in the Phone Market in Canada and already has thousands of new customers who appreciate great service and cheap call rates.
With Home Phone you get low monthly calling rates, no contracts and the first month free.
With Unlimited Canada you get unlimited calling all over Canada and reduced calls elsewhere for only $14.95/month.
With Unlimited World you get unlimited calling to over 60 countries worldwide and reduced calls elsewhere for only $24.95/month.
These Phone plans represent the excellent value always at VMedia.
Call a Sales Team Member today or click here to see our Phone plans, Phone features and prices.
Core to our continued success at VMedia are our amazing and dedicated staff who work all year to make VMedia the most exciting and amazing Company it has become.
Call a Sales Team Member today or click here to see all our packages, plans, Theme Packs, prices and current special offers at 1-844-872-8269 or visit www.vmedia.ca