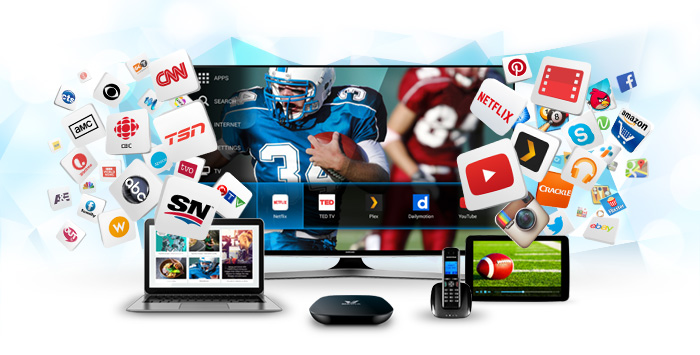 Calgary is an exciting and popular city situated in the province of Alberta, a city of two rivers, The Elbow and The Bow and is a major city of many high – powered industries including oil, gas and mining, also manufacturing, aerospace,technology, film and television industries and a huge amount of manufacturing, commercial and retail units with endless shopping malls, parks, art and cultural activities and the Calgary Zoo to visit, making Calgary a diverse and exciting city of many cultures and activities to enjoy and an ideal city to visit, work or live in.
The population of Calgary and the surrounding area will soon see the arrival of VMedia, the highly successful Multimedia Company providing High Speed Internet, IPTV and Phone services, bringing an economic boost to the area and opening a whole new world of communication and entertainment Technology to the region. VMedia commenced operating in Toronto Ontario in 2013, and due to its phenomenal success is expanding its services all over Alberta, with a further plan to expand all over Canada in the future going forward. VMedia promise reliable services with choice, flexibility and really low prices for your Internet, IPTV and Phone, keeping your monthly bills down and keeping more money in your pocket!
Internet
In this exciting Digital age, access to High Speed Internet is a must in 2016, and in a country like Canada that is increasingly internet driven, speed matters. VMedia will provide really fast internet with no contracts, no limits and really cheap rates with our enviable Technology and great plans. Our success so far is due to our hard working staff who continue to upgrade and improve the network, while our Technical Support Staff are available seven days a week ensuring you are connected at all times. Many hundreds of new customers are joining VMedia every day to avail of our really cheap internet plans, our Sales team will advise what plan suits your location and needs – whether it is DSL or cable – and give the best price always. The area around and including Calgary needs a new Internet service to enhance the local economy and make it more attractive to visitors, residents and the many industries and businesses so  VMedia is happy to be part of your community too!
Click here to see all our Internet plans and prices.
IPTV
Calgary's wait for an alternative and exciting TV service may soon be over thanks to the arrival of a brand new IPTV Company called VMedia! IPTV is the modern approach to television viewing of the future bringing crystal clear picture and sound as the IPTV is streamed via the internet to your home through an IPTV box called The VBox, bringing a huge amount of top Canadian, US and Multinational channels, news, sport, films, kids, music, games, lifestyle and more. The VBox acts as a browser giving instant access to The Web and Facebook, Twitter, Skype, YouTube, Netflix, Plex, XBMC, Instagram, Picasa and 100s of apps to keep you informed, educated and entertained every day. VCloud and PVR functions are also part of the VBox's capabilities, allowing recording of your favourite programmes and a seven day "scroll back " option so you never miss out and PVR to record, rewind, pause, stop or fast – forward a recorded programme – all at no extra cost!
At VMedia our IPTV Packages are totally awesome in choice and price, starting with "TheSkinny" – offering 30+ channels for an amazing $17.95/ month – this is the cheapest package in Canada today. Other packages include "The Basic" – offering 40+ channels, "The Premium Basic" – offering 60+ channels and Theme Packs like Family Pack, Kids Pack, Super News, Sportsman, Sports Fan, Multinational – including Chinese and South Asian channels, Hollywood Suite, lifestyle, Style and more!
VMedia have just launched 2 new Theme Packs for 2016 and they will be available in Calgary very soon. They are TSN Plus, giving you the complete TSN channel group – TSN 1 to TSN 5 plus MLB network and Golf Channel – all for only $7.95/month!
Sportsnet Plus offers a super Sports Package offering Sportsnet Ontario, East, West, Pacific, SportsnetOne and Sportsnet 360 and MLBN Network –  all this for only $9.95/month!
UChoose from VMedia will give extra flexibility and choices giving you the opportunity to pick and choose from over 160 standalones and invent your own personal viewing package and with prices starting at $1.50 – it's a fantastic Deal – only from VMedia!
Click here to see all channels packages and prices or call a Sales Team Member today!
Phone
Every day our phones keep us connected all over Canada and the world and is an essential part of daily life to keep in touch with family, friends and at work keeping us happy. VMedia will be happy too as they provide a modern and reliable phone service to the population around Calgary with really cheap calling rates, no contracts and no small print. Our Phone service is keeping everyone talking with great plans and beating our competitors everywhere. VMedia is inundated with new customers every day and we are excited to be arriving soon in Calgary to give a quality phone service the people deserve in 2016.
With Home Phone you get low monthly call rates, no contracts and the first month free!
With Unlimited Canada you get unlimited calling within Canada and reduced calls elsewhere, including long distance calls outside Canada for only $14.95/month.
With Unlimited World you get unlimited calling to over 60 countries worldwide and reduced calls elsewhere for only $24.95/month.
These excellent prices are available now!
Click here to see all Phone plans, Phone features and prices.
At VMedia we promise you the best and lowest prices for our Internet, IPTV and Phone service and as a customer you will benefit being from our reliable, modern Technology and outstanding customer care that puts us ahead of our competitors in Canada today, make the switch today – it will be the start of a new entertainment and communications experience you and your family will enjoy – all from VMedia!
Call a sales Team Member at 1- 855- 333- 8269 or visit www.vmedia.ca.
See you soon in Calgary!