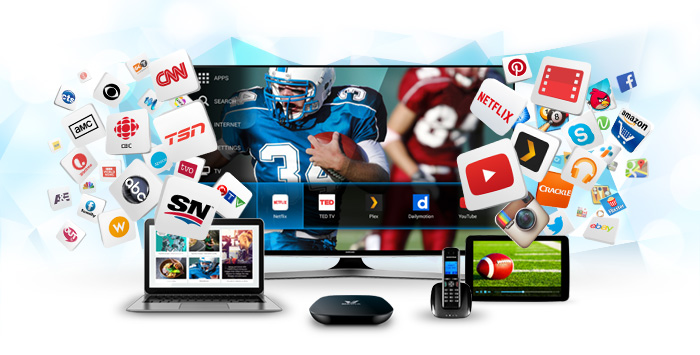 Salmon Arm is city situated in the Shuswap Lakes region midway between Calgary and Vancouver in British Columbia, an area of spectacular natural beauty and is an all year tourist destination with mountains, lakes and forests to explore and an ideal base for hiking, fishing, bird watching, water activities and winter sports, arts and history making it an area that has something for everyone. The city has many industrial, commercial and retail businesses and it is home to the longest curved wooden Wharf in North America.
The hugely successful Multimedia company VMedia, providing High Speed Internet IPTV and Phone services is planning to operate its services in British Columbia and the Salmon Arm area in 2016 as part of its major expansion plan and will provide really fast Internet, a modern IPTV and phone service bringing new Technology with really low prices and a whole new entertainment and communications experience never seen before in Salmon Arm. VMedia is striving to give the people of Canada great value, great flexibility and choice with prices that suit everyone and aim to bring their exceptional services to the four corners of the country in the future. We promise the best for less, with outstanding customer care and a dedicated staff available 365 days of the year – all from VMedia.
Internet
Are you looking for unlimited Internet that is super-fast, reliable and low in price? – You have just found it – welcome to VMedia! With the growth in the number of Internet providers in Canada, VMedia has emerged as a front runner in the provision of top quality internet and is a successful alternative to Rogers and Bell and others in this highly competitive market today. VMedia offer cable and DSL internet that is cheaper in price with really fast speeds, no contracts and no limits. We are committed to building a world class connectivity and communication and our unlimited passion for Technology and pursuit of innovation drives us to deliver the best internet service to the people of Salmon Arm and the surrounding area in 2016 and beyond. Click here to see our great Internet plans and prices.
Our Sales Team will help and advise too…. why not call them today?!
IPTV
IPTV is the future of Television entertainment. The people of Salmon arm will soon receive a modern IPTV service that change their lives completely as IPTV brings modern Technology, great channels and low prices all together – watching the TV will become a truly amazing experience for everyone . IPTV is streamed via the internet through an IPTV box called The VBox. This box brings a huge amount of Canadian, US and Multinational channels, news, sport, music, kids, games, films, lifestyle and more. The VBox acts as a browser giving instant access to The Web and Facebook, Twitter, Skype, YouTube, Plex , XBMC   and 100's of apps opening up access to a world of information entertainment and endless hours of fun. The VBox has VCloud and PVR functions offering a seven day "Scroll Back "option , PVR records and plays back TV programmes anytime and also has the ability to pause, rewind, stop or fast forward a recorded programme – all at no extra cost!
At VMedia our versatile and flexible Package deals will amaze you. We believe in providing Packages with a huge variety of channels catering for everyone's tastes and interests and giving freedom to choose whatever suits your budget and lifestyle. Our most popular Package at the cheapest price in Canada is called TheSkinny – giving 30+ channels for an amazing $17.95/month, The Basic – giving 40+ channels and The Premium basic giving 60+ channels – Other Packages include Family Pack, Kids Pack , SportsFan , SportsMan, Multinational including Chinese and South Asian channels, Hollywood Suite, Lifestyle, Style , Knowledge , Discovery and more.
UChoose allows you to pick and create your own entertainment, creating a unique Package just for you, with prices starting at only $2.25 per channel it offers superb choice and flexibility- only from VMedia.
Click here to see all channels, Packages and prices or call a Sales Team Member for further information.
Phone
The Phone is one of the most important part of daily living, keeping us connected with home, work and our family and friends in every part of the world we live in. VMedia are excited to announce our reliable Phone service will soon be in Salmon Arm and the surrounding area bringing our customers really cheap call rates with no contracts and no small print. VMedia is fast becoming a really popular phone provider and our vision is to expand our quality network all over Canada in the future. Our staff are constantly upgrading and improving the network to keep everyone talking. Our call rates cannot be beaten by our competitors that's why every day hundreds of new customers are signing up to avail of our great Plans and prices.
With HOME PHONE you get low monthly rates, no contracts and the first month free.
With UNLIMITED CANADA you get unlimited calling all over Canada and reduced calls elsewhere for only $14.95/month.
With UNLIMITED WORLD you get unlimited calling to over 60 countries worldwide and reduced calls elsewhere for only $24.95/month.
Check out our phone plans and pricing options or call our Sales Team for more information.
Click here to see all Plans and prices.
The Staff who work for VMedia are committed to ensure you get the highest standard of entertainment and communication every day and our Technical Teams are available seven days a week to keep our system working and our customers satisfied. Our Sales team will advise on current prices, Packages, Deals and current special offers. We guarantee an outstanding customer experience always, making VMedia a company you can trust. Call a Team Member today or visit www.vmedia.ca