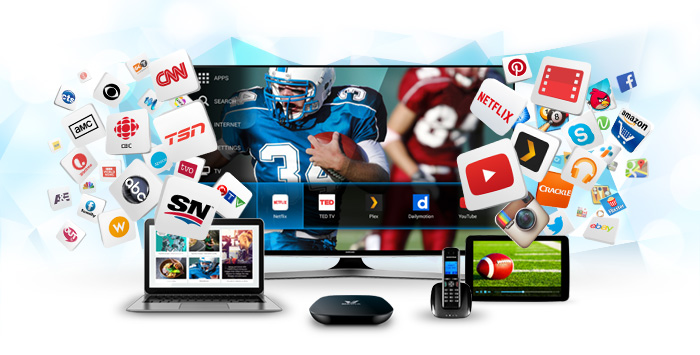 Fort St John is a city situated in the Peace River Valley area of North eastern British Columbia , and is near the great Peace River ideal for fishing , bird watching , hiking , fishing and outdoor activities, and an interesting arts , culture and history events with something for everyone, making it an ideal and healthy place to visit, work and live.
VMedia is a highly innovative and exciting Multimedia Company based in Toronto since 2013 providing high quality Internet, IPTV and Phone services to the people of Ontario and beyond and due to its outstanding success is planning to expand its services all over Canada including British Columbia and the Fort St John area in 2016. Our vision is to be the best and cheapest in Canada! We offer great choice, flexibility and great prices with all our services keeping us ahead of our competitors and providing the best communications and entertainment to suit our customer's lifestyle and budget. At VMedia our Staff will give you the most professional and friendly customer experience ever, backed up by our Technical Support Team who are available seven days a week to ensure you get the best from us – always!
Internet
A reliable Internet is absolutely vital in this fast – moving Technological age we live in and In rural Canada having an Internet service is crucial for everyday information , entertainment, work and study.
At VMedia we commit to delivering fast internet with great value Plans and Deals and awesome customer service. We have the perfect combination of fast speeds, no contracts and really low prices to tempt you!
DSL or Cable? Our friendly and helpful Sales team will advise and help you choose what Internet plan suits you. VMedia has a superb range of quality internet Plans, all with no contracts and no limits!
We assure you that moving to VMedia will prove highly beneficial to your household budget and bring you fast and reliable Internet at speed and prices you won't believe!
Click here to see all our our plans and prices or call a Sales Team Member now!
IPTV
IPTV is the way forward with modern Television, as its TV streamed to your home via the internet. It is a great alternative to cable or Satellite and all you need is an internet connection and you will be connected to a whole new world of high quality TV with crystal – clear picture and sound, it defines brilliance. VMedia will provide IPTV that is easy to install and with easy to use technology that will revolutionize every aspect of your viewing experience – all at your fingertips!
VMedia will stream your IPTV to your home via the internet through an IPTV box called "The VBox", giving instant access to top Canadian, US and Multinational channels, news, sports, music, kids, games, lifestyle and more! The VBox also acts as a browser giving you instant access to the Web and Facebook, Twitter, Skype, Netflix, Plex, XBMC, Instagram, Picasa and 100's of apps to give endless information, entertainment and fun. The VBox other functions include VCloud and PVR, allowing a seven day "scroll back "option and records and plays back TV programmes when you want. PVR also has the ability to pause, rewind, stop or fast forward a recorded programme – all at no extra cost!
At VMedia our Package Deals will give you excellent choice , flexibility and value as well as top class channels catering for every need and every budget, starting with "The Skinny" – offering 30+ channels for an amazing $17.95/month, "The Basic" – offering 40+ channels and "The Premium Basic "- offering 60+ channels giving you excellent choice and value. Other Packages include SportsMan, SportsFan, Hollywood Suite, Kids Pack, Family Pack, Multinational including Chinese and South Asian channels, Lifestyle, Style, Discovery, Knowledge and more.
With UChoose you can pick and choose from over 60 standalone channels, and make your own personal viewing experience, all from only $2.25 per channel ,this represents the best we can offer from VMedia – nobody beats our prices!
Click here to see list of channels, all Packages and prices.
Phones
A phone is the most essential part of everyday living today and the Phone Market in Canada has many challenges and Phone Companies competing to give the best service at the best prices. VMedia is a leading challenger since 2013, with its superb, modern Technology and really low call rates beating many of our competitors and as a result getting hundreds of new customers every day. Our Technical teams work hard every day to improve and upgrade the network to keep you connected with your loved ones at home and abroad.
With HOME PHONE you get low monthly call rates, no contracts and the first month free!
With UNLIMITED CANADA you get unlimited calling all over Canada and reduced calls elsewhere – all for only $14.95/month
With UNLIMITED WORLD you get unlimited calling to over 60 countries worldwide and reduced calls elsewhere – all for only $24.95/month.
This represents fantastic value for everyone and VMedia wants to keep everyone talking!
Check out all our Phone plans, Features and our amazing prices.
At VMedia our passion is innovative Technology , excellent choice and value for money- all this combined with the highest standard customer care is a winning combination in 2016 so why not join us today – call one of our Friendly and helpful Sales Team who will advise and guide you t through all our Packages , Deals , prices and current special offers. – Call now at 1- 844 -872- 8269 or visit www.vmedia.ca