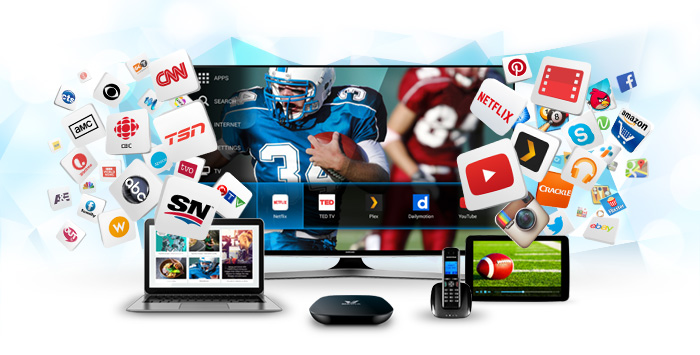 Campbell River is a coastal city on the east coast of Vancouver Island in British Columbia. It is world famous for its Salmon in this ocean coastline and multitude of rivers and lakes giving it the nickname of "The Salmon Capital of the World". It is an area of immense natural beauty with an abundance of things to do and see and a busy city with many top class restaurants, shops, marine and water activities and many parks and trails to explore. It is a lively city of arts and culture, with much to do and see all year round, making it a truly lovely place to live, work and visit.
The People of Campbell River will be very pleased with the news that VMedia, the hugely popular Multimedia Company has announced their plans to provide High Speed Internet, IPTV and Phone services to British Columbia and the whole area around Campbell River in 2016! VMedia is one of the leading challengers in the Multimedia market in Canada since 2013 and it's phenomenal growth and popularity is due to its outstanding services, low prices and top quality technology. People all over Canada are tired of high prices and want a decent and reliable TV, Internet and Phone service – that is what VMedia is all about, low prices, great deals and superb customer service – that is what we promise our new customers in Campbell River.
Internet
Millions of people all over Canada depend daily on a reliable Internet for a continuous stream of information, education, entertainment and communication. At VMedia our vision is to lead the Market with services and superior technology that harness the potential of the Internet and provide a flexible, reliable and user friendly Internet that is cheap in price, not in quality! Our promise is to bring unlimited, fast Internet with no contracts and no small print at the lowest rates in Canada.
DSL or Cable? – Check all our Internet plans and pricing options – we guarantee you will be amazed! VMedia has a proven track record with its Internet and our staff work hard every day to improve and upgrade the network and keep our customers informed, connected and entertained.
Click here to see our Internet Plans and prices.
IPTV
At VMedia our latest IPTV service has been created and designed with excellence in mind, whether you watch, listen or play VMedia pushes the boundaries of technology to deliver the greatest possible TV experience at the lowest price imaginable today. IPTV is a great alternative to cable and satellite TV as it's streamed via the Internet through our IPTV box called The VBox, giving a huge amount of Canadian, US and Multinational channels, news, sport, music, games, lifestyle, kids, games and more. The VBox is the smart and simple way to experience more choice , more functionality and more content as it includes a browser giving instant connection to the web and Facebook ,Twitter, Skype, Netflix, YouTube, Plex, XBMC, Instagram ,Picasa and 100's of apps- opening a whole world of information and entertainment beyond your wildest dreams!
The VBox has VCloud and PVR that provide two very important functions and greatly enhance the functions and popularity of this amazing IPTV box. VCloud offers a seven day "scroll back " option so you never miss your favourite programmes and allows you to watch all the content you wish on any device, all at your fingertips at no extra charge!
PVR allows you to a recording capability and gives you the ability to pause, rewind, stop or fast – forward a recorded programme – also at no extra charge!
Our Package Deals from VMedia are totally flexible, putting you in charge of your own entertainment, starting with "TheSkinny" – the best – selling and most popular Package at VMedia and the cheapest Package in Canada today, giving 30+ channels for an amazing $17.95/month!
"The Basic" – giving 40+ channels.
"The Premium Basic"- giving 60+ channels.
Other Packages include Hollywood Suite, Kids Pack, Family Pack, SportsFan, SportsMan, Multinational including Chinese and South Asian channels, Style, Knowledge and much more!
Click here for list of Packages and Prices.
The variety and choice for you is endless and our Sales Team will assist you when choosing your preferred Package, we are only a phone call away!
Phone
VMedia operate a really reliable and low priced Phone service and is attracting many new customers every day with its really cheap calling rates. The people of Campbell River will be delighted to get a new and fresh alternative Phone company that really looks after its customers in terms of prices and customer service.
With HOME PHONE you get low monthly rates, no contracts and the first month free!
With UNLIMITED CANADA you get unlimited calling all over Canada and reduced calls elsewhere for only $14.95/month.
With UNLIMITED WORLD you get unlimited calling to over 60 countries worldwide and reduced calls elsewhere for only $24.95/month.
This represents outstanding value from VMedia and our Technical Teams work hard to keep you talking every day – that is our promise!
Click here for all our Plans and prices.
At VMedia we are pursuing our vision to provide the best services to our customers, and look forward to giving the people of Campbell River what they want in 2016 – value for money, a modern reliable and dependable Internet, IPTV and Phone service that will keep everyone connected and entertained – all at the lowest and most competitively priced options available in Canada today. Our Sales Team are available now to take your call – They are friendly and professional and will guide you through all our Packages , Deals and current special offers, why not call a Sales Team Member today at 1-844-872-8269 0r visit www.vmedia.ca